NOMV Clear Blueprint
April 2023 by Taylor Tillery
The 2022 Merck veterinary wellbeing study unveiled many challenges and opportunities for my fellow veterinarians and veterinary team members. Among these items, it, unfortunately, illustrated that ~75% of veterinary team members and 44% of US (United States) veterinarians are NOT thriving in their current occupation. These findings have inspired us at Merck Animal Health to act unconditionally to improve our veterinary profession.

We set out to work with organizational partners to create several resources that we believed should make our profession both healthier and stronger. One solution we just helped to launch in 2023 originated from our Merck Animal Health Partnership with Not One More Vet (NOMV). NOMV's CLEAR (Compassion, Listening, Energy, Action, Resources) Blueprint is powered by Merck Animal Health and developed by a multidisciplinary team of individuals from the veterinary, mental health, and other professional sectors.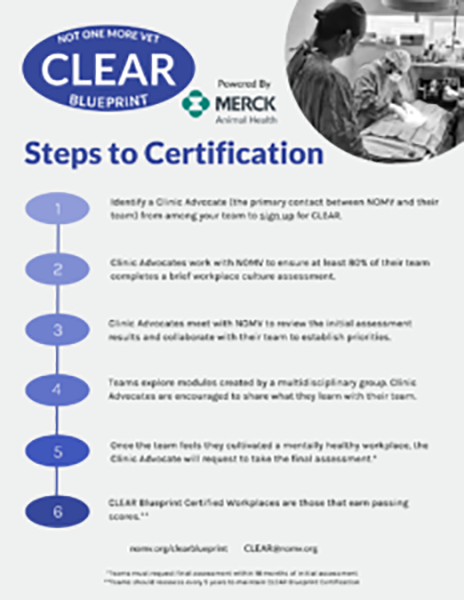 CLEAR Blueprint is a workplace wellness certification program which empowers the creation and maintenance of a psychologically safe work environment. I believe this certification should be valuable to many veterinary organizations and teams working to overcome challenges in attracting, retaining, and motivating veterinary talent. This program was created to foster an engaging workplace committed to wellbeing. This process occurs via internal transformation of the veterinary team. The journey begins by signing up at https://www.nomv.org/clearblueprint/ .

The clinic will need to assign a team advocate who will work with a NOMV Social work intern to help them through the certification process once they are ready to undergo the certification journey. They will begin by meeting and getting >80% of their entire veterinary team to take a brief initial assessment that evaluates the clinic on 10 wellbeing metrics. From this assessment modules will be assigned that will help the practice make the improvements necessary to hopefully pass a final assessment in the next 18 months to achieve CLEAR certification. A clinic must be able to achieve a passing score (>80%) on the final assessment to be certified.
There are 10 modules and content was piloted to ensure it was adequate for all types of practices regardless of a veterinary clinic's geography, team size, species focus, ownership model, etc. The creation of this program was made possible by Merck Animal Health. The cost for teams to undergo the certification process ranges from $499-899 depending on team size. Scholarships are available for clinics that are unable to financially contribute to the program.

In this brief time after launch, we have already had much success with >52 Veterinary teams already beginning the CLEAR process. Additionally, more than 160 teams from 5 different countries have signed up via the CLEAR Queue[GE1] in hope of beginning the journey of creating a positive and healthy atmosphere in their clinic for their teams.

I look forward to the continued impact this and other solutions will and can have on making a profession which I love better for my fellow veterinary team members. At Merck Animal Health we are passionate about the veterinary profession and making it even better. We are unconditionally committed to supporting veterinarians and their teams.
About the author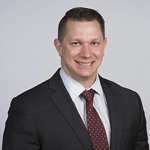 Taylor Tillery
DVM
Veterinary Academic & Industry Liaison Lead
Veterinary & Consumer Affairs