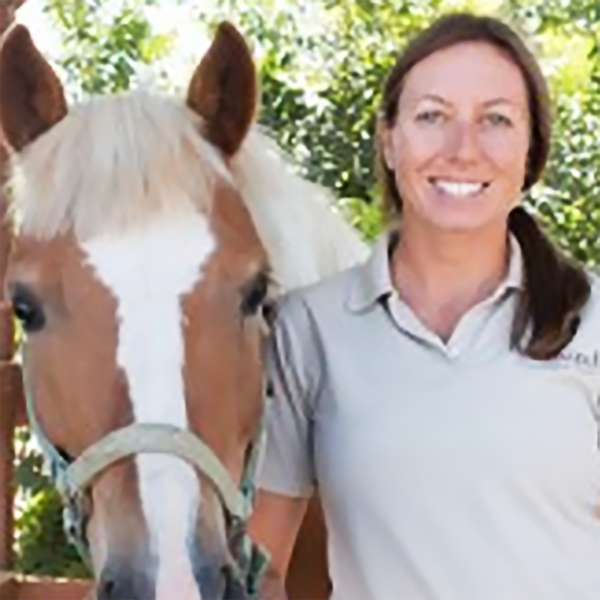 Cara Wright
DVM, MS, IVCA
Senior Equine Professional Services Veterinarian
Dr. Cara Wright has been in equine private practice since her graduation from the Virginia-Maryland Regional College of Veterinary Medicine in 2009. Prior to veterinary school, she earned a master's degree in animal science focusing on equine reproduction. After graduation, she completed an internship in Ocala, Florida, that focused on the needs of the Thoroughbred racehorse. Since then, she has focused her career on the needs of the equine athlete, integrating modalities such as chiropractic, laser, and rehabilitation to keep horses working and feeling their best. She has served as an adjunct professor for the University of Florida's Practice-Based Equine Clerkship and teaches sessions on veterinary pathology and physiology for other veterinarians and human chiropractors. In 2022, Dr. Wright joined Merck Animal Health to contribute her expertise to our equine health initiatives.

---
---
"I am grateful for the opportunity to impact the lives of horses by supporting both the veterinarians that care for them and the equine industry at large."
---
---
In addition to Dr. Wright's passion for equine health, she enjoys training for and competing in triathlons and international travel.
Areas of Interest
Sports medicine and adjunct therapies
Geriatric horses
Emergency Care
Publications
Wright C, Zeytoonian K. How to improve practice efficiency, revenue, and job satisfaction by hiring a licensed veterinary technician. Equine Veterinary Education, American edition. Oct. 2021:3-4.
Brown EL, Ramiya VK, Wright CA, et al. Treatment of metastatic equine melanoma with a plasmid DNA vaccine encoding Streptococcus pyogenes EMM55 protein. J Equine Vet Sci. 2014;34(5):704-708. doi:10.1016/j.jevs.2013.11.012
Waller CA, Thompson DL Jr., Cartmill JA, Storer WA, Huff NK. Reproduction in high body condition mares with high versus low leptin concentrations. Theriogenology. 2006;66(4):923-928.
Storer, WA. Thompson DL Jr., Waller CA, Cartmill JA. Hormonal patterns in normal and hyperleptinemic mares in response to three common feeding-housing regimens. J Anim Sci. 2007;85(11):2873-2881.
Cartmill JA, Thompson DL Jr., Storer WA, Crowley JC, Huff NK, Waller CA. Effect of dexamethasone, feeding time, and insulin infusion on leptin concentrations in stallions. J Anim Sci. 2005;83(8):1875-1881.