Canine Flu H3N2
The first fully licensed vaccine for dogs and cats to protect against canine influenza H3N2 infections.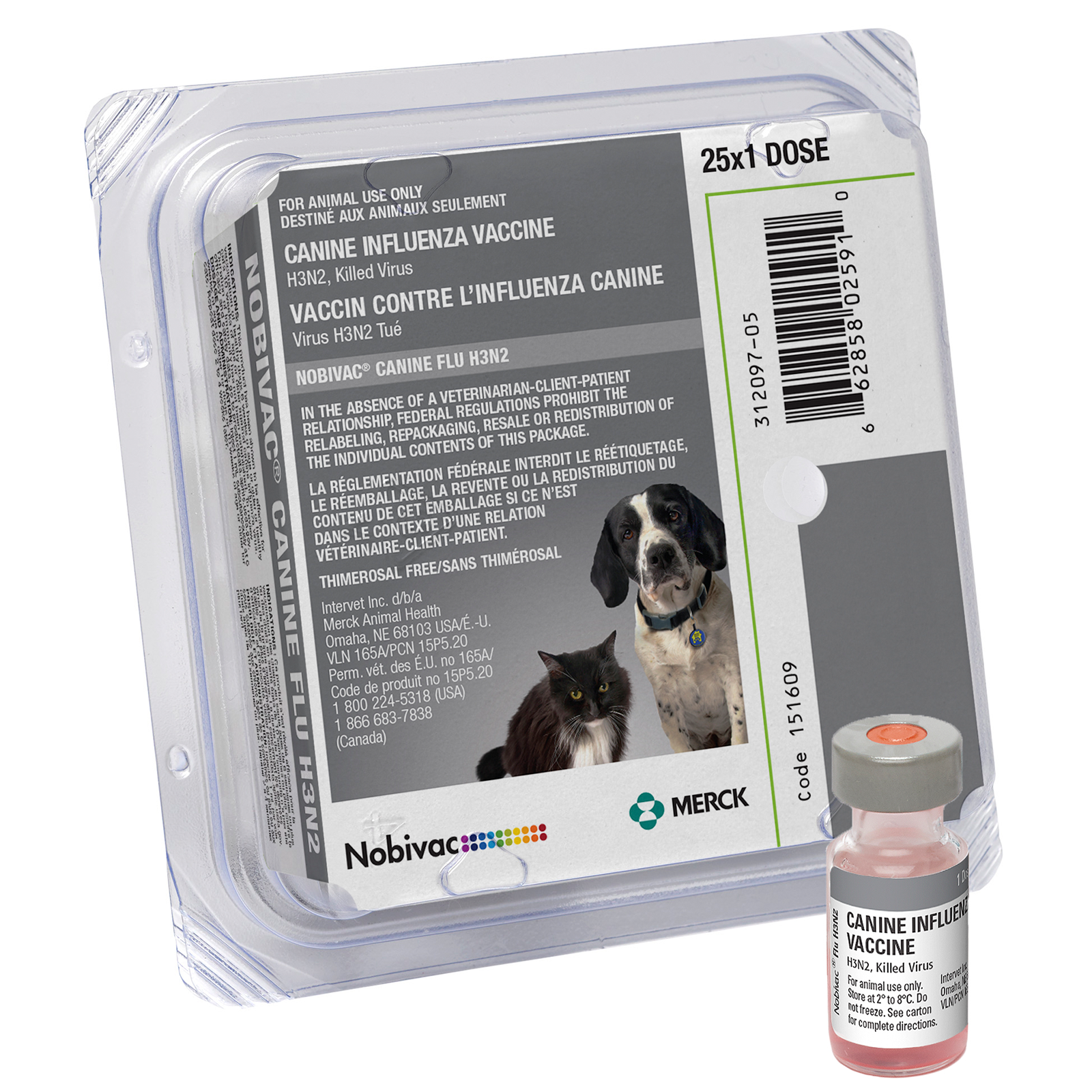 PROVIDING PROTECTION AGAINST H3N2
NOBIVAC® Canine Flu H3N2 (Inactived virus).
Reduced the incidence and severity of coughing1
Decreased the overall clinical signs of disease, including ocular and nasal discharge, coughing, sneezing, depression, and dyspnea1
Demonstrated protection against the formation and severity of lung lesions1
Contains inactivated virus; adjuvanted to enhance immune response
For Cats:

Induces high antibody response to vaccination
Protected against pneumonia
Significantly reduced lung consolidation compared to control cats
Indications:
This product has been shown to be effective for vaccination of healthy dogs 6 weeks of age or older or healthy cats 10 weeks of age or older against canine influenza virus.
NOBIVAC® CANINE FLU H3N2 IS A SAFE CHOICE FOR DOGS AND CATS
Well tolerated on subcutaneous administration
Proven safe across a multitude of breeds
and ages
ADMINISTRATION AND DOSAGE
1 mL subcutaneous injection
Booster two to four weeks later
Historically, annual revaccination has been recommended for this product. The need for this booster has not been established. Contact your veterinarian or manufacturer for more information on revaccination frequency.
Available in a 25 x 1 mL dose presentation
ALSO AVAILABLE IN OTHER FORMULATIONS
Professional Resources and Educational Materials
Keep your clinic and staff informed and aware of diseases and outbreaks.
Nobivac® Social Media Kits
Digital Assets
Use these ready-to-share posts to educate pet parents and drive business to your clinic for preventative care.
AAHA Canine Vaccination Guidelines
SOP
In-depth information about canine vaccinations and veterinary best practices.
Addressing CIV in Your Clinic
eBook
Tips and guidelines for your clinic to prevent and manage canine influenza.