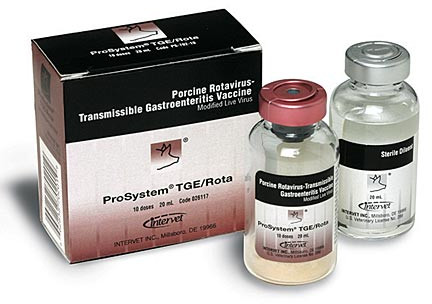 An aid in the prevention and control of TGE and rotaviral diarrhea in nursing pigs of vaccinated sows/gilts. Unique TGE and rotavirus protection (use oral plus IM administrations for best TGE protection). Freeze-dried vaccine with diluent.
PORCINE ROTAVIRUS –
TRANSMISSIBLE GASTROENTERITIS VACCINE

Modified-Live Virus

For use in healthy pregnant swine as an aid in the prevention of rotaviral diarrhea and TGE in their nursing piglets. Contains TGE and two major Rotavirus serotypes.
Downloads
Advantages
First USDA-licensed vaccine with two serotypes of serogroup A rotavirus; G5 (A1) and G4 (A2); for best protection1
Unique modified-live TGEV strain; acid resistance selected for best gut-level protection1
100% protection from mortality in rotavirus challenge of vaccinated sow litters1
Efficacy: Rapid, long-lasting immunity with oral and IM dosing1
Safety: Shown to be safe in sows and gilts with normal born alive, litter size and weight1
For additional information, please see the product label.
References:
Data on file, Merck Animal Health.