The cattle industry's most trusted dewormer.
Safe-Guard Suspension (Drench)
One liter deworms 43,478 lb. of cattle; one gallon deworms 164,565 lb.; 10 liters deworms 434,780 lb. of cattle. (2.3mL/100 lb. of cattle).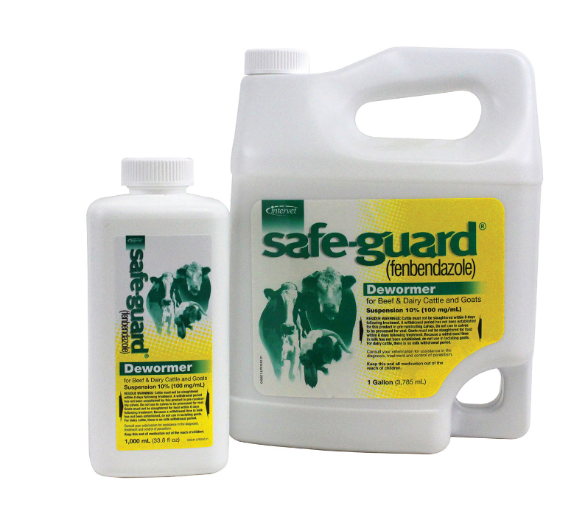 Available in:
125 mL, 1L, 10L, 1G
Safe-Guard (fenbendazole) oral drench removes and controls:
Lungworms
Stomach worms (adults and fourth stage larvae)
Brown stomach worm
Intestinal worms (adults and fourth stage larvae)
Hookworm
Thread-necked intestinal worm
Small intestinal worms
Bankrupt worm
Nodular worms
Treatment shows a clear advantage in dry matter intake, average daily gain, improved health and pounds of beef produced.
Fair Balance
RESIDUE WARNING: Cattle must not be slaughtered within eight days following last treatment. For dairy cattle, the milk discard time is zero hours. A withdrawal period has not been established for this product in pre-ruminating calves. Do not use in calves to be processed for veal.
RESIDUE WARNING: Goats must not be slaughtered for food within six days following last treatment.
Consult your veterinarian for assistance in the diagnosis, treatment and control of parasitism.
Unsure when to deworm your herd?
Questioning how much you will need? Use the treatment schedule and dosage calculator to create your customized cattle deworming plan.