CLINAFARM® EC
Emulsifiable Concentrate
A fungicide used to control Aspergillus fumigatus in cleaned poultry and turkey hatchery equipment prior to the introduction of eggs.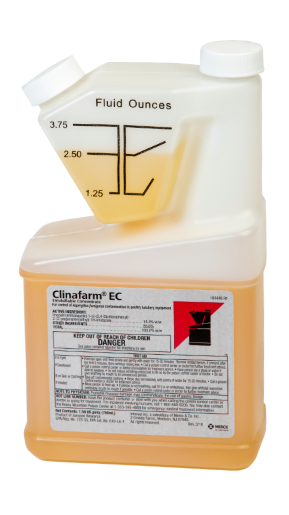 ADVANTAGES:
Clinafarm® EC will dramatically reduce the levels of infectious organisms and spores in treated areas.
Compatible with quaternary ammonium compounds, glutaraldehyde and phenolic compounds
May be applied by fogger or sprayer
May be used to disinfect empty setters, hatcher cabinets, storerooms, coolers, egg trucks and chick/poult buses
Convenient tip "N" measure bottle
RESOURCES
CLINAFARM® EC Product Bulletin

To view our complete product lineup, click to view
our POULTRY PRODUCT CATALOG vol. 3.0.