SHOR-BRON®-D
Bronchitis Vaccine
For vaccination of healthy chickens at 1 day of age by coarse spray administration or at 2 weeks of age or older by drinking water as an aid in the prevention of Delaware (DE) type infectious bronchitis.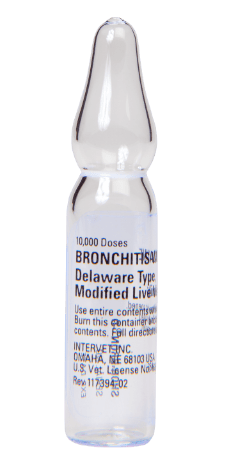 ADVANTAGES:
Stimulates strong immunity against the DE 072 strain of infectious bronchitis
Convenient for use in the hatchery: 10,000 dose frozen ampules
Safe for use in broilers
Approved for use in 2 week or older birds, for protection against field challenge that might result in air sac condemnations

To view our complete product lineup, click to view
our POULTRY PRODUCT CATALOG vol. 3.0.