Veterinarians trust intranasal vaccination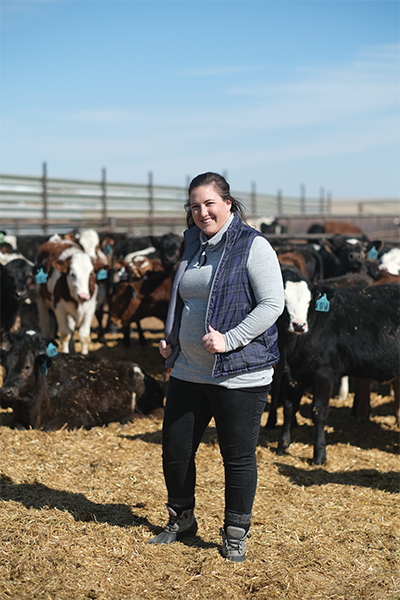 Establishing an early foundation of protection from bovine respiratory disease (BRD) is why veterinarians recommend intranasal vaccination in calves as young as one week of age.
Tera Barnhardt, D.V.M., of Johnson City, Kansas, and Luke Thole, D.V.M., of Cascade Iowa, are among the bovine practitioners who depend on BOVILIS® NASALGEN® 3, an intranasal BRD vaccine for cattle from Merck Animal Health. A new formulation, BOVILIS® NASALGEN® 3-PMH, now provides protection against five of the major causes of viral and bacterial pneumonia in one dose – including IBR, BRSV, PI3 and Pasteurella multocida and Mannheimia haemolytica.
"An intranasal vaccine for calves is my favorite delivery mechanism from an immunological standpoint," says Barnhardt, a veterinary consultant working with cow-calf operations and large feedlots of 40,000 head and up.
"Because I'm worried about sickness after moving calves, the BOVILIS NASALGEN 3 technology gives me a lot of confidence. It's an intranasal, so we see a response quickly and a developed antibody response within two weeks," she says.
For cow-calf operations, Barnhardt recommends intranasal vaccination in the spring before turning calves on pasture, as well as at weaning time to prevent pneumonia.
The Kansas veterinarian says intranasal vaccines are a less stressful way to stimulate the immune system while also supporting Beef Quality Assurance principles. "It's one less injection we have to worry about. If I can reduce the number of needles we use, it's less stress on that animal and no injection site problems."
In Iowa, Luke Thole serves a diverse clientele that includes cow-calf, dairy and feedlot operations.
"I like to use BOVILIS NASALGEN 3 on young calves," says Thole. "Maternal antibodies from the cow's colostrum will fully or partially block injectable vaccines. With BOVILIS NASALGEN 3, you do not have that issue.1"
"I also like administering BOVILIS NASALGEN 3 on higher-risk, higher-stress calves, especially those coming into feedlots," he continues. "Cattle risk and stress depend on the time of year cattle are received, age of cattle, source of cattle, and vaccine history."
To learn more about the newest options in intranasal respiratory vaccines, visit Nasalgen.com or contact your Merck Animal Health representative.
References:
Merck Animal Health Study MS-N3PMH-3-19: Efficacy of vaccination in colostrum fed 7-day old calves when using multivalent intranasal vaccine in the face of maternal antibody.
---
Read other articles here: