PLACEMENT
Once the animal comes to the hospital pen and is in the chute, the Whisper system can be put to use. Proper placement of the stethoscope is vital. The Whisper stethoscope is placed on the right side of the chest, two inches back from the elbow and two inches up. This is the prime location for your device to get the most accurate reading.

CAPTURE
The Whisper stethoscope is much like the device that your physician would place on your chest and back at your annual physical. What makes Whisper special is it captures the sounds from your animal's chest, turns them into digital files and wirelessly sends those files to computer software that generates a score that reflects the severity of the BRD in that particular animal.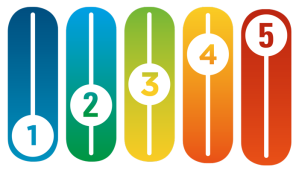 SCORE
The numbers range from one to five. A score of one means the animal is relatively free of symptoms. A score of five reflects lung tissue that is severely compromised. Once you have a score, you have the confirmation you need to properly treat your animal. This valuable tool allows veterinarians to enhance their diagnosis; adding another dimension to diagnosis beyond visual recognition and taking the animal's temperature.

INSTALLATION
The system is not simply dropped off on your doorstep. This program comes with full installation and personal training that will ensure your team has everything they need to confidently utilize the full user-friendly Whisper system. But the training doesn't stop there. By using this technology, we are able to remotely monitor the system to make sure the technology is performing well and is being used properly.
Watch, first hand, how the Whisper system is used in the field.
Ask your local Merck Animal Health rep or your veterinarian how you can purchase Whisper.