Merck Animal Health Honors Dr. Joe Klopfenstein as Mentor of the Year
Klopfenstein recognized at the 2022 American Association of Bovine Practitioners Annual Conference
MADISON, N.J., Sept. 27, 2022 – Merck Animal Health, known as MSD Animal Health outside of the United States and Canada, a division of Merck & Co., Inc., Rahway, N.J., USA (NYSE:MRK), and the American Association of Bovine Practitioners (AABP) presented Joe Klopfenstein, DVM, DABVP, with the Mentor of the Year Award at the AABP Annual Conference. This annual award recognizes an individual who goes above and beyond in educating, supporting and advancing the careers of future bovine veterinarians.
Klopfenstein is the clinical assistant professor at the Carlson College of Veterinary Medicine at Oregon State University specializing in food and fiber producing animals. He graduated from Purdue University College of Veterinary Medicine. Prior to his position in academia, Klopfenstein was in private practice in Vermont specializing in dairy and beef production, management and health. He is board certified by the American Board of Veterinary Practitioners in dairy practice and was previously recognized as the Bovine Practitioner of the Year by the American Association of Bovine Practitioners in 2010.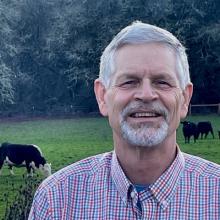 "When he was in private practice, he became a mentor to many students looking to pursue careers in veterinary medicine. He was a role model to me and many others inthe Cooperative for Real Education and Agricultural Management at the University of Vermont," said Kayla Clark, D.V.M., a partner at Sterner Veterinary Livestock Professionals in Michigan and who nominated Klopfenstein for the award. "He leads by example and created a hands-on learning atmosphere, allowing us to gain valuable experience with the cattle we oversaw. He is a natural educator who gains the trust of his students with the right balance of encouragement, honest critiques and through conveying his confidence in their abilities to succeed."
"Dr. Klopfenstein is an exemplary veterinarian who shares his thoughts, ideas and experiences with his colleagues and the students he has worked with throughout his career," said Dr. Justin Welsh, D.V.M. executive director, livestock technical services at Merck Animal Health. "As part of our Unconditional social commitment, we are proud to support and celebrate those in our profession, like Dr. Klopfenstein, who mentor and serve as role models for the future leaders of our profession."
Merck Animal Health has had long-standing partnerships with educational institutions and associations, like AABP, to ensure the future needs of the industry are addressed. In 2021, the company provided more than $1.5 million in veterinary scholarships and more than $1.5 million in grants to universities, associations and foundations.