Merck Animal Health Awards $90,000 in Scholarships to Future Bovine Veterinarians at the AABP Annual Conference
RAHWAY, N.J., Sept. 25, 2023 – Merck Animal Health, known as MSD Animal Health outside of the United States and Canada, a division of Merck & Co., Inc., Rahway, N.J., USA (NYSE:MRK), today announced it has awarded $90,000 in scholarships to 18 bovine veterinary students in partnership with the American Association of Bovine Practitioners (AABP). Scholarship recipients were selected based on their academic achievements, career goals, work experience, and interest in veterinary medicine.
The scholarships recently were awarded at the 2023 AABP Annual Conference, held in Milwaukee, Wis., Sept. 21-23. The 2023 scholarship recipients, each receiving $5,000, include:
Chelsey Ann Bieberle, Kansas State University
Ruth Bowman, University of Guelph
Caden Colombik, Washington State University
Bailey DeGroat, The Ohio State University
George DeMers, University of Pennsylvania
Lillian Feider, University of Wisconsin
Ashley Garatea, Western University of Health Sciences
Sonja Gilje, University of Minnesota
Taythen Larson, Washington State University
Michaela Musselman, Kansas State University
Ana Leigh Ruiz, University of Minnesota
Paige Schmidt, Kansas State University
Brooke Smith, Oregon State University
Alexis Stadtlander, Iowa State University
Vladimir Tadic, University of Calgary
Erica Webb, University of Georgia
Tanya Weber, Washington State University
Casey Whitehouse, Atlantic Veterinary College
"Merck Animal Health is proud to honor these veterinary students who represent the future of our field and the cattle industry," said Justin Welsh, D.V.M., executive director of livestock technical services, Merck Animal Health. "These exemplary students embody our unconditional commitment to cattle care as well as to our mission to advance the Science of Healthier Animals®."
"We are excited for what the future holds for these outstanding students and the talents and skills they will bring to the veterinary profession as they embark on their careers," said Fred Gingrich II, D.V.M., executive director, AABP. "We are incredibly grateful to Merck Animal Health for its continued partnership and support for these next generation of leaders in our field."
Founded in 1965, AABP is an international association of more than 5,000 veterinarians and veterinary students who serve as leaders in cattle health, welfare, and productivity. To learn more, visit aabp.org.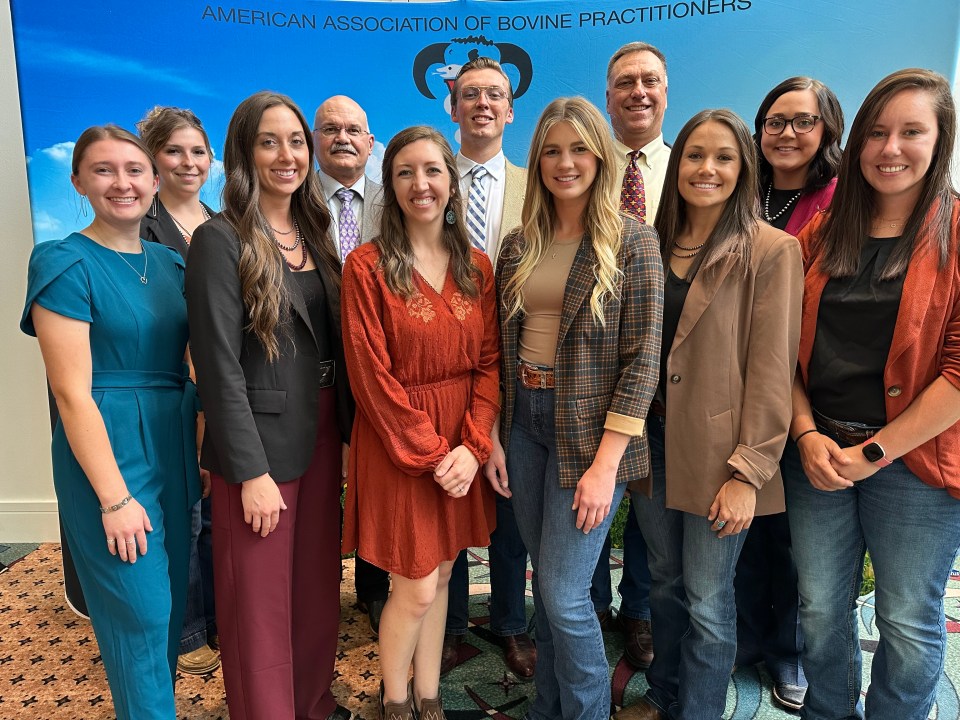 The 2023 Merck Animal Health and AABP scholarship recipients at the AABP Annual Conference in Milwaukee, Wis.
Front row, L-R: Lillian Feider, Paige Schmidt, Tanya Weber, Alexis Stadtlander, Chelsey Bieberle, Erica Webb
Back row, L-R: AABP Vice President Dr. Dave Sjeklocha (Merck), George DeMers, Dr. Lowell Midla (Merck), Bailey DeGroat
Not pictured: Ruth Bowman, Caden Colombik, Ashley Garatea, Sonja Gilje, Taythen Larson, Michaela Musselman, Ana Leigh Ruiz, Brooke Smith, Vladimir Tadic, Casey Whitehouse
About Merck Animal Health
At Merck, known as MSD outside of the United States and Canada, we are unified around our purpose: We use the power of leading-edge science to save and improve lives around the world. For more than a century, we've been at the forefront of research, bringing forward medicines, vaccines, and innovative health solutions for the world's most challenging diseases. Merck Animal Health, a division of Merck & Co., Inc., Rahway, N.J., USA, is the global animal health business of Merck. Through its commitment to The Science of Healthier Animals®, Merck Animal Health offers veterinarians, farmers, producers, pet owners, and governments one of the widest ranges of veterinary pharmaceuticals, vaccines, and health management solutions and services as well as an extensive suite of connected technology that includes identification, traceability and monitoring products. Merck Animal Health is dedicated to preserving and improving the health, well-being, and performance of animals and the people who care for them. It invests extensively in dynamic and comprehensive R&D resources and a modern, global supply chain. Merck Animal Health is present in more than 50 countries, while its products are available in some 150 markets. For more information, visit www.merck-animal-health.com and connect with us on LinkedIn, Facebook, Twitter and Instagram.
---
Kathleen Cuddy
(816) 301-8253
kathleen.cuddy@merck.com