The Science of Pain Relief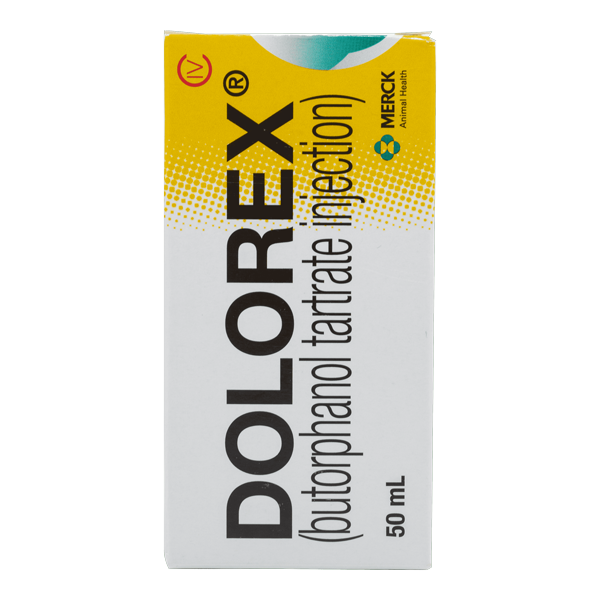 THE SCIENCE OF PAIN RELIEF
A fast-acting pain relief solution for horses.
Serious relief – For fast-acting relief of moderate to severe pain
Rapid onset of action – DOLOREX® begins to alleviate pain within 15 minutes of administration
Consistent – Pain relief can be maintained for up to four hours
Safe – Can be safely re-administered if needed
Backed by Merck Animal Health – Included in the trusted pain management portfolio from Merck Animal Health that also includes BANAMINE
DOLOREX (butorphanol tartrate) is indicated for the relief of pain associated with colic in adult horses and yearlings. Clinical studies in the horse have shown that butorphanol tartrate alleviates abdominal pain associated with torsion, impaction, intussusception, spasmodic and tympanic colic, and postpartum pain.
Dose and Administration
The recommended dosage in the horse is 0.1 mg butorphanol per kilogram of body weight (0.05 mg/lb) by intravenous injection. This is equivalent to 5 mL DOLOREX for each 1,000 lb body weight. The dose may be repeated within 3 to 4 hours but treatment should not exceed 48 hours. Preclinical model studies and clinical field trials in horses demonstrate that the analgesic effects of butorphanol are seen within 15 minutes following injection and persist for about 4 hours.
Warning
FOR USE IN HORSES ONLY. NOT FOR USE IN HORSES INTENDED FOR FOOD.
Caution
DOLOREX, a potent analgesic, should be used with caution with other sedative or analgesic drugs as these are likely to produce additive effects. There are no well controlled studies using butorphanol in breeding horses, weanlings, and foals. Therefore the drug should not be used in these groups.
Adverse Reactions
In clinical trials in horses, the most commonly observed side effect was slight ataxia which lasted 3 to 10 minutes. Marked ataxia was reported in 1.5% of the 327 horses treated. Mild sedation was reported in 9% of the horses.
RESOURCES
Keep your clinic up-to-date on the Merck Animal Health line of equine products.
Equine Product Reference Guide
A guide to the entire equine product line from Merck Animal Health.