BREEDERVAC REO-PLUS®
Bursal Disease-Reovirus Vaccine
For the vaccination of healthy chickens 3 weeks of age or older against infectious bursal disease (IBD) (caused by Standard, Delaware A and E and GLS virus strains) and diseases caused
by avian reoviruses.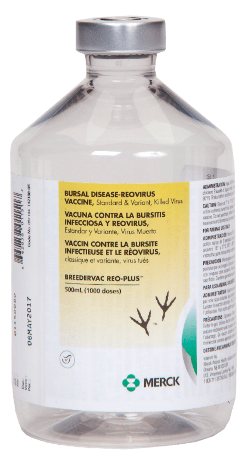 ADVANTAGES:
Contains a broad range of inactivated standard and bursal-derived variant IBD virus and reovirus strains:
Induces high, uniform antibodies against IBD and reovirus throughout the entire production cycle
Induces enhanced protection against Delaware variant IBD virus with bursal-derived antigen
Provides excellent protection against reovirus associated disease (including tenosynovitis and malabsorption)
RESOURCES

To view our complete product lineup, click to view
our POULTRY PRODUCT CATALOG vol. 3.0.