COCCIVAC®-D2
Coccidiosis Vaccine
For vaccination of healthy chickens at 1 day of age or older as an aid in the prevention of coccidiosis.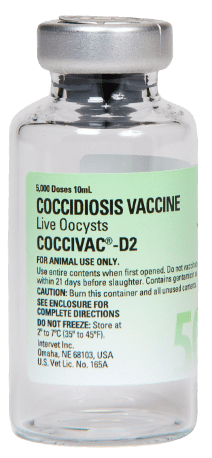 ADVANTAGES:
Controlled dose stimulates early, mild, predictable immune response to 6 species of Eimeria parasites important in chicken production
Early vaccination stimulates uniform immunity, which is not complicated by skip-a-day feeding programs
Convenient and flexible administration methods are adapted to different management practices
Ideal product to be used in parent stock and commercial pullets reared on cages or on the floor
Can be used in rotation with anticoccidial products to restore sensitivity to coccidiostats
Manufactured using SPF birds provides increased biosecurity
RESOURCES
Intussusception Development in Young Broilers Vaccinated with Coccivac-D2

To view our complete product lineup, click to view
our POULTRY PRODUCT CATALOG vol. 3.0.