LT-IVAX®
Fowl Laryngotracheitis VaccIne
For vaccination of chickens 4 weeks of age or older as an aid in preventing infectious laryngotracheitis.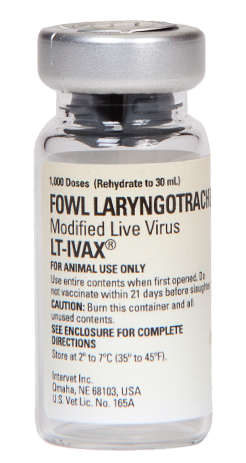 ADVANTAGES:
Solid and uniform protection against infectious laryngotracheitis when administered via eye-drop
Safe – more attenuated than CEO vaccines, has not been associated with vaccine induced outbreaks
Has been shown to not spread from bird to bird in challenge-based contact controlled studies

To view our complete product lineup, click to view
our POULTRY PRODUCT CATALOG vol. 3.0.