UNIVAX-BD®
Bursal Disease Vaccine
For vaccination of healthy chickens one day of age or older and to 18 to 19 day embryonated eggs as an aid in the prevention of infectious bursal disease (IBD).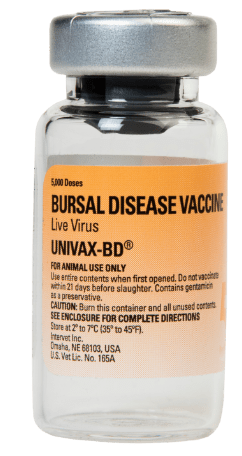 ADVANTAGES:
Produces broad protection against subclinical challenge without destroying future immunization capabilities
Approved for in ovo use in 18 to 19 day embryonated eggs
Approved for day of age by subcutaneous route of administration or by drinking water to birds 1 week of age or older
Highly antigenic, mild reacting, plaque-purified virus for consistent protection
Ideal product for in ovo or day of age application
RESOURCES

To view our complete product lineup, click to view
our POULTRY PRODUCT CATALOG vol. 3.0.