Feline Chlamydophila Disease
Feline Chlamydophila (formerly Chlamydia) is caused by a bacteria known as Chlamydophila felis and primarily causes conjunctivitis, inflammation of the membrane lining the eyelid.
Disease Overview
Although disease caused by Chlamydophila felis in cats has been referred to as feline pneumonitis, Chlamydophila rarely causes pneumonia in cats.
Feline Chlamydophila is regarded as a primary conjunctival pathogen and infection always involves the eye, resulting in conjunctivitis and occasionally also causing signs of rhinitis, with sneezing and nasal discharge.
FELINE CHLAMYDOPHILA FAST FACTS
Transmission of Chlamydophila between cats occurs through direct contact with other cats or infected animals.32.
Kittens may become infected by their mothers during birth.32
TRANSMISSION
Transmission occurs as a result of direct, close contact between cats, because the organism survives poorly in the environment.
Infected cats also shed Chlamydophila from their rectum and vagina, although whether venereal transmission may occur has not been confirmed.
CLINICAL SIGNS
Watery or yellowish discharge from one or both eyes
Swelling and reddening of the conjunctiva
Mild sneezing and nasal discharge
Mild fever (occasionally)
Lethargy (occasionally)
CATS AT RISK
Cats exposed to others:
Boards often or comes from a shelter environment
Shares food and water bowls, or litter areas
Lives in a multiple cat household
Young Cats with Chlamydophila conjunctivitis are generally <1 yr old, and cats 2–6 months old are at higher risk of infection.
MORBIDITY THREATS
The signs are most severe 9–13 days after onset and then become mild over a 2-3 week period.
In some cats, clinical signs can last for weeks despite treatment, and recurrence of signs is not uncommon.
SPREADING DISEASE
The incubation period after exposure to an infected cat ranges from 3 to 10 days.
Untreated cats may harbor the organism for months after infection.
DIAGNOSIS
Chlamydophila conjunctivitis in cats should be differentiated from conjunctivitis caused by feline herpesvirus 1 and feline calicivirus.
Diagnosis can be confirmed by demonstration of intracytoplasmic inclusions in exfoliative cytologic preparations, by isolation of the Chlamydophila organism in cell culture, or by PCR for DNA on conjunctival swabs.
Merck Animal Health Vaccines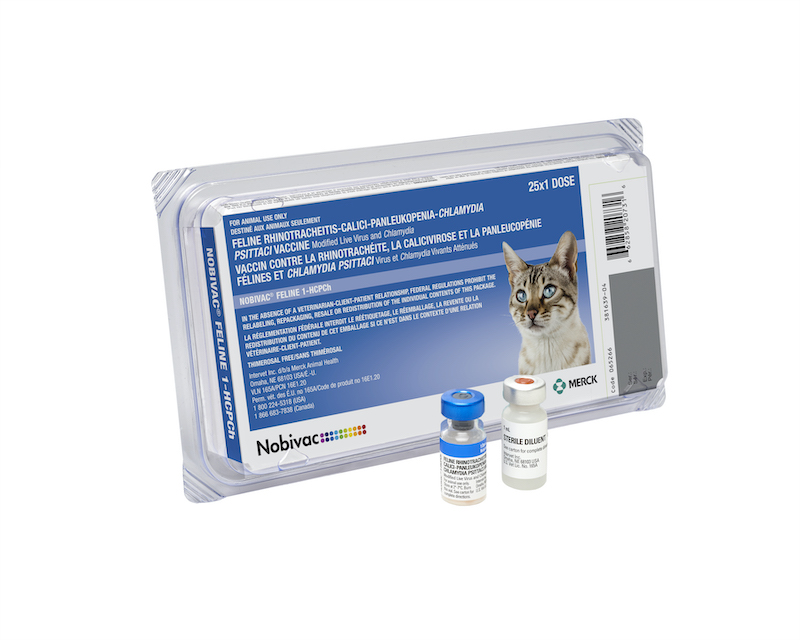 NOBIVAC® FELINE 1-HCPCh
Shown to be effective against feline rhinotracheitis, calicivirus, panleukopenia, as well as feline Chlamydophila.
ALSO AVAILABLE
Professional Resources and Educational Materials
Keep your clinic and staff informed and aware of diseases and outbreaks.
Feline Sarcomas – What Do We Really Know
Guide
Summary of the latest information about feline sarcomas.
Feline Vaccination Guide
Brochure
A guide to help your pet parents understand common feline diseases and the importance of customizing vaccination for their pet's unique lifestyle.
Feline Leukemia Virus
Brochure
Educate your clients about FeLV with this easy to share brochure.