Merck Animal Health Launches Nasalgen® 3
Three-way vaccine offers longest duration of immunity against IBR
MADISON, N.J., February 6, 2020 – Merck Animal Health (known as MSD Animal Health outside the United States and Canada) has introduced Nasalgen® 3, a three-way intranasal vaccine that protects beef and dairy cattle from the most common pneumonia-causing viral pathogens. Administering intranasal vaccines to neonatal calves is considered one of the most effective strategies to put protective immunity in place quickly and establish a strong foundation for future respiratory protection.
Nasalgen 3 has the longest six-and-a-half-month duration of immunity (DOI) against infectious bovine rhinotracheitis (IBR), an 11-week DOI against bovine respiratory syncytial virus (BRSV) and a three-month DOI against parainfluenza 3 (PI3).
"Nasalgen 3 mimics natural exposure to the most common pneumonia viruses," says Scott Nordstrom, D.V.M., associate director of ruminant life cycle management, Merck Animal Health. "The intranasal administration of Nasalgen 3 stimulates a strong, early immune response because the vaccine antigens are delivered to mucosal surfaces in the nose – an area loaded with immunologically active tissues."
Nasalgen intranasal vaccines avoid interference from maternal antibodies in colostrum that can block injectable vaccines and are less stressful on calves compared to similar injectable vaccinations. Nasalgen 3 also is designed with an IBR that is not temperature-sensitive, so the vaccine will replicate and protect in a moderate to high temperature environment.1
"If producers are working cattle in warm temperatures, Nasalgen 3 will still replicate," says Dr. Nordstrom. "The IBR antigen elicits a rapid interferon response as well, which provides non-specific protection against many viruses. Cattle are protected early on and then develop both a serum and mucosal antibody response within two weeks of vaccination.2"
Unique blue shadow dye for confident administration
Not only is the single 2-mL dose easy to administer, the unique blue shadow dye clearly indicates which animals have been vaccinated. With needle free intranasal administration, carcass quality is not compromised and the product meets best management practices outlined in the industry's Beef Quality Assurance program.
Nasalgen 3 is proven safe for use in pregnant cows and in calves nursing pregnant cows, as well as young calves. The vaccine is available in 2-mL, 20-mL and 100-mL packages.
Consult your veterinarian for specific usage guidance.
Nasalgen 3 is an extension of the trusted Nasalgen portfolio and is supported by the expansive technical services and customer service network at Merck Animal Health. To learn more about the newest option in intranasal respiratory vaccines, visit Nasalgen.com.
About Merck Animal Health
For more than a century, Merck, a leading global biopharmaceutical company, has been inventing for life, bringing forward medicines and vaccines for many of the world's most challenging diseases. Merck Animal Health, a division of Merck & Co., Inc., Kenilworth, N.J., USA, is the global animal health business unit of Merck. Through its commitment to the Science of Healthier Animals®, Merck Animal Health offers veterinarians, farmers, pet owners and governments one of the widest ranges of veterinary pharmaceuticals, vaccines and health management solutions and services as well as an extensive suite of digitally connected identification, traceability and monitoring products. Merck Animal Health is dedicated to preserving and improving the health, well-being and performance of animals and the people who care for them. It invests extensively in dynamic and comprehensive R&D resources and a modern, global supply chain. Merck Animal Health is present in more than 50 countries, while its products are available in some 150 markets. For more information, visit www.merck-animal-health.com or connect with us on LinkedIn, Facebook, and Twitter at @MerckAH.
Grissett GP, et al. Effect of Ambient Temperature on Viral Replication and Serum Antibody Titers Following Administration of a Commercial Intranasal Modified-Live Infectious Bovine Rhinotracheitis-Parainfluenza-3 Virus Vaccine to Beef Cattle Housed in High- and Moderate-Ambient Temperature Environments. Am J Vet Res. 2014; 75(12):1076-1082.
Todd JD, Volenec FJ, Paton IM. Interferon in nasal secretions and sera of calves after intranasal administration of avirulent infectious bovine rhinotracheitis virus: association of interferon in nasal secretions with early resistance to challenge with virulent virus. Infection and Immunity 1972; 5: 699-706.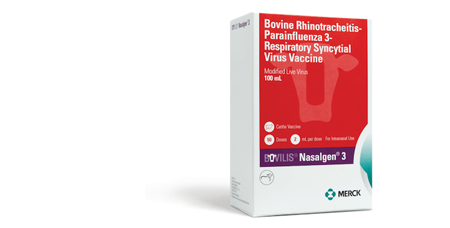 Photo: Merck Animal Health has launched Nasalgen 3, the newest option for intranasal respiratory vaccination that provides three-way protection against the most common pneumonia-causing viral pathogens.