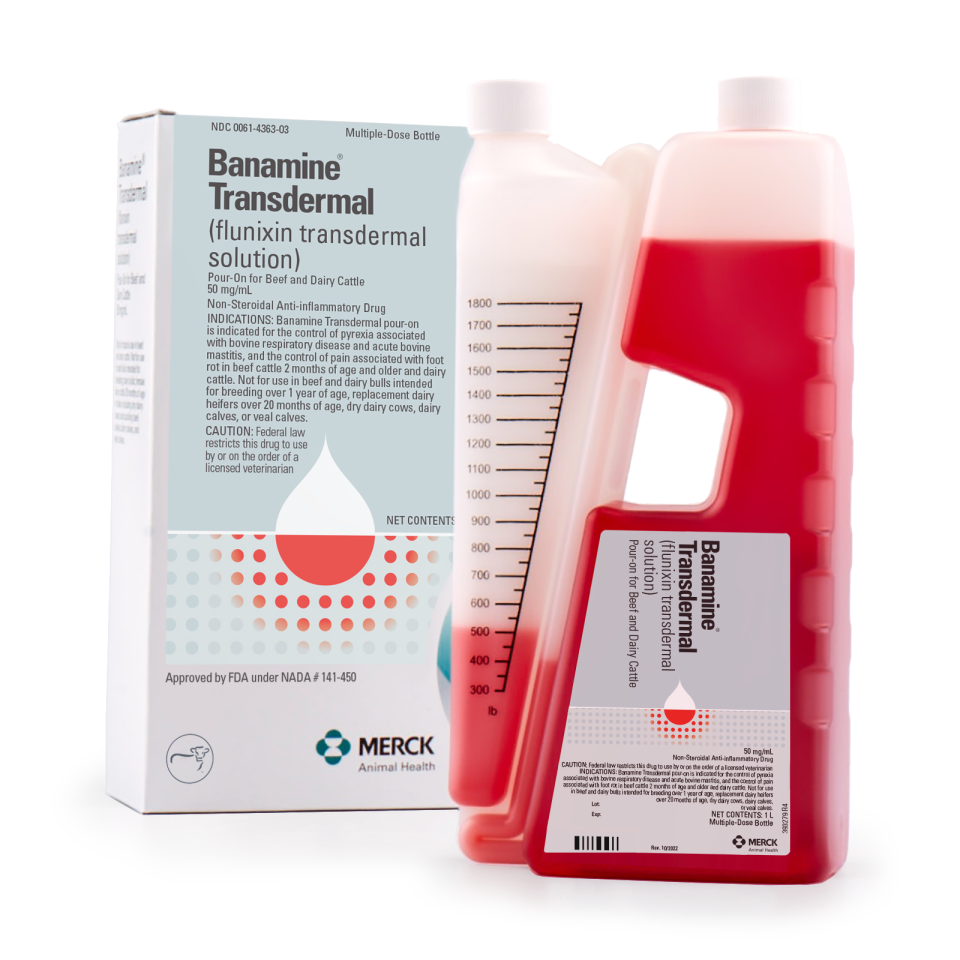 Cattle Banamine & Nutritionals
BANAMINE® TRANSDERMAL
Product Description
BANAMINE® TRANSDERMAL (flunixin transdermal solution) for control of fever associated with bovine respiratory disease and acute bovine mastitis, and the control of pain associated with foot rot, BANAMINE TRANSDERMAL is the first and only non-steroidal anti-inflammatory (NSAID) cattle product available with a convenient pour-on route of administration.
| Product Name | Pkg Size | GTIN#/UPC# | UIN# |
| --- | --- | --- | --- |
| BANAMINE® TRANSDERMAL | 1 x 100ml | 8713184126870 | 134449 |
| BANAMINE® TRANSDERMAL | 1 x 250ml | 8713184147202 | 138977 |
| BANAMINE® TRANSDERMAL | 1 x 1 Ltr | 8713184147219 | 144915 |
IMAGES
---
BANAMINE® TRANSDERMAL (12 btls/case)
COLLATERAL
---
BANAMINE® TRANSDERMAL Detailer
IMPORTANT SAFETY INFORMATION:
NOT FOR HUMAN USE. KEEP OUT OF REACH OF CHILDREN. Milk that has been taken during treatment and for 48 hours after treatment must not be used for human consumption. Cattle must not be slaughtered for human consumption within 8 days of the last treatment. Not for use in replacement dairy heifers 20 months of age or older or dry dairy cows; use in these cattle may cause drug residues in milk and/or calves born to these cows or heifers. Not for use in beef and dairy bulls intended for breeding over 1 year of age, beef calves less than 2 months of age, dairy calves, and veal calves. Do not use within 48 hours of expected parturition. Approved only as a single topical dose in cattle. For complete information on BANAMINE® TRANSDERMAL, see accompanying product package insert.