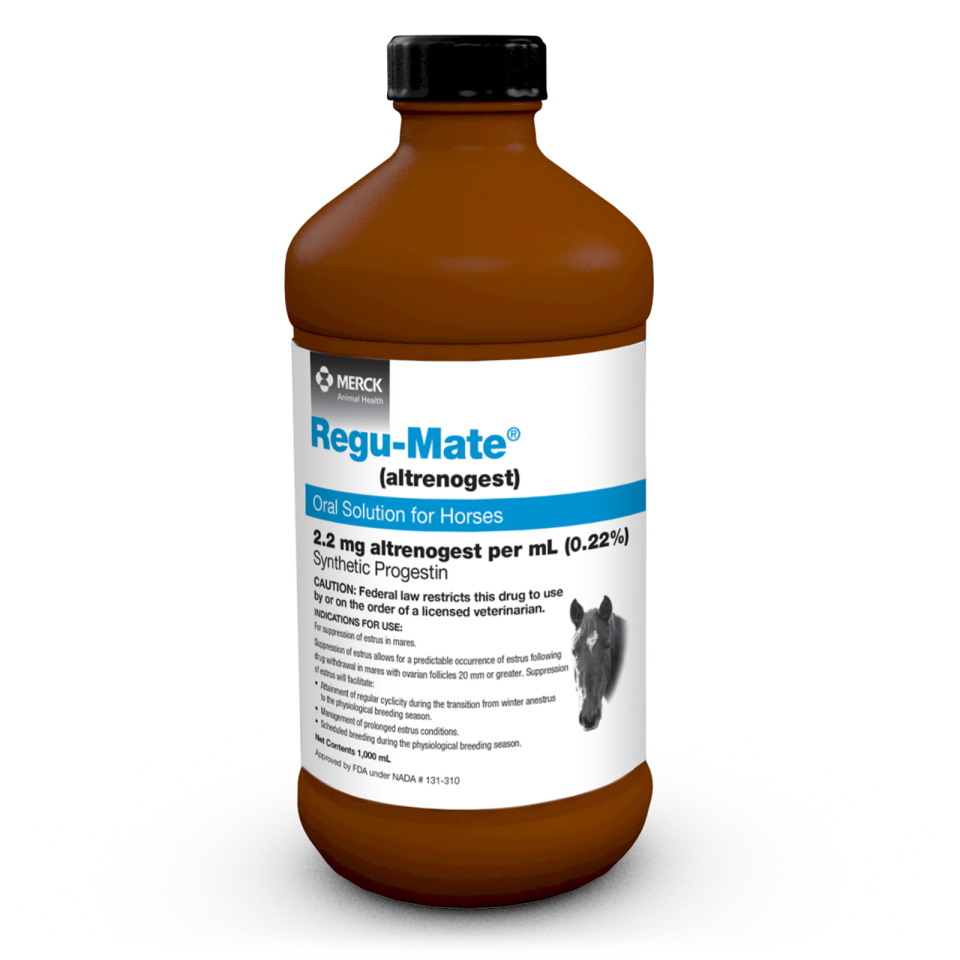 Equine Pharmaceuticals
REGU-MATE®
Product Description
REGU-MATE® (altrenogest) Solution 0.22% is indicated to suppress estrus (period of the reproductive cycle when the mare ovulates and, if bred, is likely to conceive) in mares.
| Product Name | Pkg Size | GTIN#/UPC# | UIN# |
| --- | --- | --- | --- |
| REGU-MATE® | 1 liter | 021784422475 | 042247 |
IMPORTANT SAFETY INFORMATION:
Regu-Mate® is contraindicated for use in mares having a previous or current history of uterine inflammation. Natural or synthetic gestagen therapy may exacerbate existing low-grade or "smoldering" uterine inflammation into a fulminating uterine infection in some instances. Do not use in horses intended for human consumption. Direct contact with skin must be avoided and protective gloves must be worn when handling this product. Pregnant women or women who suspect they are pregnant should not handle Regu-Mate®. Women of child bearing age should exercise extreme caution when handling this product as it is readily absorbed through skin and could lead to a disruption of the menstrual cycle or prolongation of pregnancy. Direct contact with the skin should be avoided and accidental spillage on the skin should be washed off immediately with soap and water. Keep out of the reach of children. For complete safety information, refer to the product label.