Merck Animal Health and DVAuction Introduce Cattle Market Central™
Delivers real-time feeder cattle prices
MADISON, N.J., February 4, 2015 – Merck Animal Health and DVAuction, Inc., announced the most accurate and timely feeder cattle prices in real-time from one website. Cattle Market Central™ (CMC), an extension of the familiar Beef Market Central™, provides feeder cattle class and weight offerings, as well as prices updated automatically throughout the day from more than 45 auction markets.
Cattle producers can test CMC with a free, four-week complimentary trial from Merck Animal Health. Interested producers can simply visit cattlemarketcentral.com to sign up. Qualified Merck Animal Health customers will be offered continued CMC access after the trial or cattle producers can subscribe to the service.
"This site was developed with extensive input from cattle producers and designed to help address their critical real-time needs in this digital age," said Jim Miles, Merck Animal Health senior marketing director. "We've had 275 producers test the site to ensure that it provides what cattlemen want, and we've gotten excellent feedback about its ease of use and value."
Among the innovations CMC offers is a Real-Time Index (RTI) that emulates the CME feeder-cattle index. "As cattle sell across the country, the RTI lets you compare against similar cattle sold the previous day," said Corbitt Wall, cattle analyst for DVAuction. "Based on 650- to 850-pound steers from Regions 1 and 2, the RTI is a moving, seven-day price and weight average that's updated instantly." In comparison, the CME feeder-calf index comes out every 24 hours and doesn't adjust during the day.
The website's dashboard features the RTI, as well as a list of auction markets participating that day. "Producers can access and participate in live auctions with one click, including viewing video of the actual cattle on-site," added Dusty Markham, sales director for DVAuction.
Among its many highlights, CMC lets subscribers create and save custom sales reports – selecting for region, auction market, cattle class, weight range and more. An alert option lets producers key in specific parameters, and it will send them a text or email message when such cattle are available.
The quick report option gives instant, real-time access to basic market information in just a few clicks. "For example, you can get a report on 700- to 800-pound steers sold in the past 72 hours in Region 2," Markham noted. The market report option provides detailed reports on cattle sales from the past 30 days for specific markets. CMC also provides industry headlines and news summaries to keep producers well informed.
CMC is accessible through PC platforms. For more information, contact your Merck Animal Health representative or go to cattlemarketcentral.com.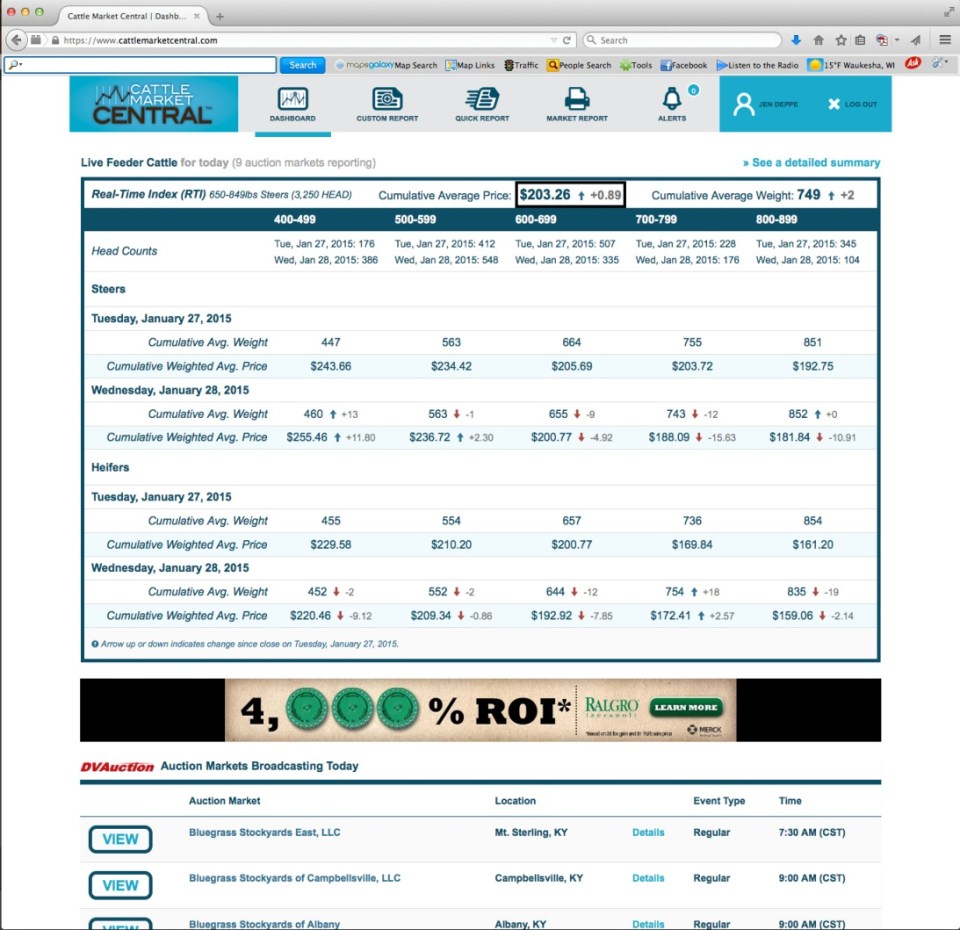 About Merck Animal Health
Today's Merck is a global healthcare leader working to help the world be well. Merck Animal Health, known as MSD Animal Health outside the United States and Canada, is the global animal health business unit of Merck. Through its commitment to the Science of Healthier Animals™, Merck Animal Health offers veterinarians, farmers, pet owners and governments one of the widest range of veterinary pharmaceuticals, vaccines and health management solutions and services. Merck Animal Health is dedicated to preserving and improving the health, well-being and performance of animals. It invests extensively in dynamic and comprehensive R&D resources and a modern, global supply chain. Merck Animal Health is present in more than 50 countries, while its products are available in some 150 markets. For more information, visit www.merck-animal-health.com or connect with us on LinkedIn and Twitter at @MerckAH.
Merck Forward-Looking Statement
This news release includes "forward-looking statements" within the meaning of the safe harbor provisions of the United States Private Securities Litigation Reform Act of 1995. These statements are based upon the current beliefs and expectations of Merck's management and are subject to significant risks and uncertainties. If underlying assumptions prove inaccurate or risks or uncertainties materialize, actual results may differ materially from those set forth in the forward-looking statements.
Risks and uncertainties include but are not limited to, general industry conditions and competition; general economic factors, including interest rate and currency exchange rate fluctuations; the impact of pharmaceutical industry regulation and health care legislation in the United States and internationally; global trends toward health care cost containment; technological advances, new products and patents attained by competitors; challenges inherent in new product development, including obtaining regulatory approval; Merck's ability to accurately predict future market conditions; manufacturing difficulties or delays; financial instability of international economies and sovereign risk; dependence on the effectiveness of Merck patents and other protections for innovative products; and the exposure to litigation, including patent litigation, and/or regulatory actions.
Merck undertakes no obligation to publicly update any forward-looking statement, whether as a result of new information, future events or otherwise. Additional factors that could cause results to differ materially from those described in the forward-looking statements can be found in MSD's 2013 Annual Report on Form 10-K and the company's other filings with the Securities and Exchange Commission (SEC) available at the SEC's Internet site (www.sec.gov).