Merck Animal Health Introduces New Vaccine Option for Fight against Porcine Reproductive and Respiratory Syndrome (PRRS)
SUMMIT, N.J., September 9, 2014 – Merck Animal Health today announced the introduction of PRIME PAC™ PRRS+, a vaccine for reducing clinical signs of reproductive disease in female breeding-age swine and respiratory disease in pigs 3 to 4 weeks of age and older due to porcine reproductive and respiratory syndrome virus (PRRSv).
PRRS continues to be one of the most costly diseases affecting swine producers today. Combining productivity costs and other animal health-related expenses, losses due to PRRS in the U.S. breeding and growing-pig herd is estimated at $664 million annually.1
"Due to the economic impact and high prevalence of PRRS in the U.S. swine herd, vaccination is crucial," says Karen Lehe, D.V.M., DACVPM, swine senior account manager, Merck Animal Health. "Vaccination stabilizes the herd's PRRS immunity and reduces the potential of virus circulation. It also offers producers an option that better meets the needs of their changing production practices – a labeled 2 mL dose for sows, as well as a 1 mL dose for pigs."
Results of several respiratory and reproductive challenge trials using both heterologous (different structure from vaccine virus) and homologous (same structure as virus used to make vaccine) PRRSv strains demonstrated the safety and efficacy of Prime Pac PRRS+. Trial results also showed that vaccination significantly reduced viremia and the clinical signs of PRRSv, and provided four months duration of immunity; helping the herd remain as productive as possible.
"The vaccine helps mitigate the clinical signs, such as reproductive abnormalities in the breeding herd and high mortality rates in piglets, which take a substantial toll on the health of the herd and an operation's productivity," says Dr. Lehe. "Vaccination helps producers protect two significant areas of production, as well as a business's bottom line."
PRIME PAC PRRS+ is available in convenient 20 mL and 100 mL packages, as well as a 600-sow/1200-piglet-dose Bulk Pac. To learn more about PRIME PAC PRRS+, visit PrimePacPRRS.com.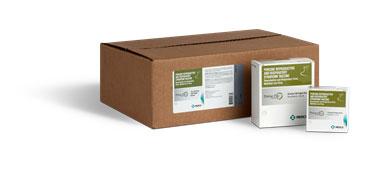 Prime Pac PRRS+ is available in a convenient 600-sow/1200-piglet-dose Bulk Pac, as well as 20 mL and 100 mL packages.Product Label 
About Merck Animal Health
Today's Merck is a global healthcare leader working to help the world be well. Merck Animal Health, known as MSD Animal Health outside the United States and Canada, is the global animal health business unit of Merck. Through its commitment to the Science of Healthier Animals™, Merck Animal Health offers veterinarians, farmers, pet owners and governments one of the widest range of veterinary pharmaceuticals, vaccines and health management solutions and services. Merck Animal Health is dedicated to preserving and improving the health, well-being and performance of animals. It invests extensively in dynamic and comprehensive R&D resources and a modern, global supply chain. Merck Animal Health is present in more than 50 countries, while its products are available in some 150 markets. For more information, visit www.merck-animal-health.com or connect with us on LinkedIn and Twitter at @MerckAH.
Merck Forward-Looking Statement
This news release includes "forward-looking statements" within the meaning of the safe harbor provisions of the United States Private Securities Litigation Reform Act of 1995. These statements are based upon the current beliefs and expectations of Merck's management and are subject to significant risks and uncertainties. If underlying assumptions prove inaccurate or risks or uncertainties materialize, actual results may differ materially from those set forth in the forward-looking statements.
Risks and uncertainties include but are not limited to, general industry conditions and competition; general economic factors, including interest rate and currency exchange rate fluctuations; the impact of pharmaceutical industry regulation and health care legislation in the United States and internationally; global trends toward health care cost containment; technological advances, new products and patents attained by competitors; challenges inherent in new product development, including obtaining regulatory approval; Merck's ability to accurately predict future market conditions; manufacturing difficulties or delays; financial instability of international economies and sovereign risk; dependence on the effectiveness of Merck's patents and other protections for innovative products; and the exposure to litigation, including patent litigation, and/or regulatory actions.
Merck undertakes no obligation to publicly update any forward-looking statement, whether as a result of new information, future events or otherwise. Additional factors that could cause results to differ materially from those described in the forward-looking statements can be found in Merck's 2013 Annual Report on Form 10-K and the company's other filings with the Securities and Exchange Commission (SEC) available at the SEC's Internet site (www.sec.gov).
1 Holtkamp, DJ.; Kliebenstein, JB; Neuman, EJ; et al. Assessment of the economic impact of porcine reproductive and respiratory syndrome virus on United States pork producers. Journal of Swine Health and Production, 2013; 21 (2):72-84.