Merck Animal Health Launches new addition to the Circumvent G2 Product Line Ready-To-Use PCV2 and M. hyo Vaccine
DE SOTO, Kan., – Jan. 21, 2014 – Merck Animal Health today introduced Circumvent® PCV-M G2 – a porcine circovirus Type 2 (PCV2) and Mycoplasma hyopneumoniae combination vaccine. The new vaccine is the only one-dose or two-dose, ready-to-use combination with five-month PCV2 duration of immunity, which is 25 percent longer than any other PCV2 vaccine on the market.
"The added four weeks of immunity that Circumvent G2 brings means better protection in late stages of production where the loss of pigs approaching market weight can be devastating," says Brad Thacker, D.V.M., M.B.A., Ph.D., Merck Animal Health senior technical services veterinarian. "Now we're able to provide this protection in combination with M. hyo in an easy-to-use, one-bottle solution, which offers producers significant benefits."
The ready-to-use Circumvent® PCV-M G2 vaccine is the second product in the next generation of Circumvent G2 vaccines. The Circumvent G2 family of vaccines offers one- or two-dose options, giving producers and their veterinarians the flexibility to choose the dosing protocol that best fits their operation's needs. With the two-dose option, producers can administer the first vaccination to piglets as early as 3 days of age, which helps get them off to a stronger start. Having the ability to vaccinate at such an early age also offers the added convenience of working smaller pigs that are easier to handle and less stressed, and this process can be completed by some of the operation's most trusted and capable pig handlers who commonly work in the farrowing barns.
To help producers tailor their vaccine protocols to the needs of their individual operation, Merck Animal Health provides an online vaccination planning tool to help determine which Circumvent G2 option is right for them. In addition, they can learn more about how these vaccines can have a positive impact on their operation's bottom line with the help of the Circumvent G2 savings calculator.
To learn more about Circumvent PCV-M G2 and Circumvent PCV G2, visit Circumvent-G2.com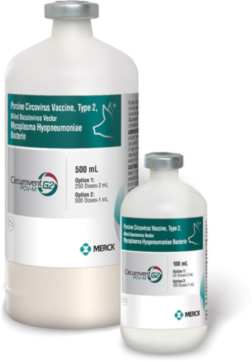 About Merck Animal Health
Today's Merck is a global healthcare leader working to help the world be well. Merck Animal Health, known as MSD Animal Health outside the United States and Canada, is the global animal health business unit of Merck. Merck Animal Health offers veterinarians, farmers, pet owners and governments one of the widest range of veterinary pharmaceuticals, vaccines and health management solutions and services. Merck Animal Health is dedicated to preserving and improving the health, well-being and performance of animals. It invests extensively in dynamic and comprehensive R&D resources and a modern, global supply chain. Merck Animal Health is present in more than 50 countries, while its products are available in some 150 markets. For more information, visit www.merck-animal-health.com.
Merck Forward-Looking Statement
This news release includes "forward-looking statements" within the meaning of the safe harbor provisions of the United States Private Securities Litigation Reform Act of 1995. These statements are based upon the current beliefs and expectations of Merck's management and are subject to significant risks and uncertainties. If underlying assumptions prove inaccurate or risks or uncertainties materialize, actual results may differ materially from those set forth in the forward-looking statements.
Risks and uncertainties include but are not limited to, general industry conditions and competition; general economic factors, including interest rate and currency exchange rate fluctuations; the impact of pharmaceutical industry regulation and health care legislation in the United States and internationally; global trends toward health care cost containment; technological advances, new products and patents attained by competitors; challenges inherent in new product development, including obtaining regulatory approval; Merck's ability to accurately predict future market conditions; manufacturing difficulties or delays; financial instability of international economies and sovereign risk; dependence on the effectiveness of Merck's patents and other protections for innovative products; and the exposure to litigation, including patent litigation, and/or regulatory actions.
Merck undertakes no obligation to publicly update any forward-looking statement, whether as a result of new information, future events or otherwise. Additional factors that could cause results to differ materially from those described in the forward-looking statements can be found in Merck's 2012 Annual Report on Form 10-K and the company's other filings with the Securities and Exchange Commission (SEC) available at the SEC's Internet site (www.sec.gov).