Merck Animal Health Launches New Campaign for BRAVECTO ® (fluralaner) Chews for Dogs
New creative campaign highlights the extended benefits of BRAVECTO ® Chews for Dogs
MADISON, N.J., April 3, 2023 – With flea and tick season in full swing, Merck Animal Health,
known as MSD Animal Health outside of the United States and Canada, has introduced a new
creative campaign reminding dog owners to protect their four-legged family members from fleas
and ticks with BRAVECTO ® (fluralaner) Chews for Dogs. The longest-lasting oral flea and tick
prevention and treatment is currently available by veterinary prescription, BRAVECTO Chews
for Dogs starts killing fleas and ticks within hours 1 , meaning less worry and more convenience
for dog owners.
Pet owners are more invested than ever in their pet's health and happiness 2 , which
helped inspire the new "Bravo, BRAVECTO" campaign that launched this month. The new
creative from the dog's perspective highlights the value of the BRAVECTO Chew for Dogs
extended 12-week 1 duration, which is nearly three times longer than other oral flea and tick
products available on the market today. Featuring elongated dog bones and larger-than-life
doghouses, the campaign playfully reflects these favorite dog items also being "nearly three
times longer" in size.
"At Merck Animal Health, we are committed to maintaining the unconditional bond
between dogs and owners, while providing best-in-class products to protect their pets' health,"
said Elizabeth Fox, director of U.S. Parasiticides. "BRAVECTO Chews for Dogs does just that. It
is long-lasting and easy-to-use, thus creating less stress and complication for pet owners by
providing up to 12 weeks of protection against fleas and ticks."
BRAVECTO Chews for Dogs was recently approved by the FDA to be the first and only
U.S. product labeled to treat and control Asian longhorned ticks, a new invasive species found
in over one-third of the United States 3 . When paired with heartworm disease prevention such as
SENTINEL ® SPECTRUM ® Chews (milbemycin oxime, lufenuron, praziquantel), pet owners can
also reduce the risk of intestinal parasitic burdens such as roundworm, hookworm, whipworms,
and tapeworm.
"With summer just around the corner, and more time spent outdoors and traveling, it is
critical to be proactive in preventing fleas and ticks, especially as new tick species emerge," said
Kathryn Duncan, DVM, PhD, DACVM, parasitology field specialist, Merck Animal Health. "We
always encourage pet owners to talk with their veterinarian about best practices and
recommendations for medications that provide long-lasting, year-round protection."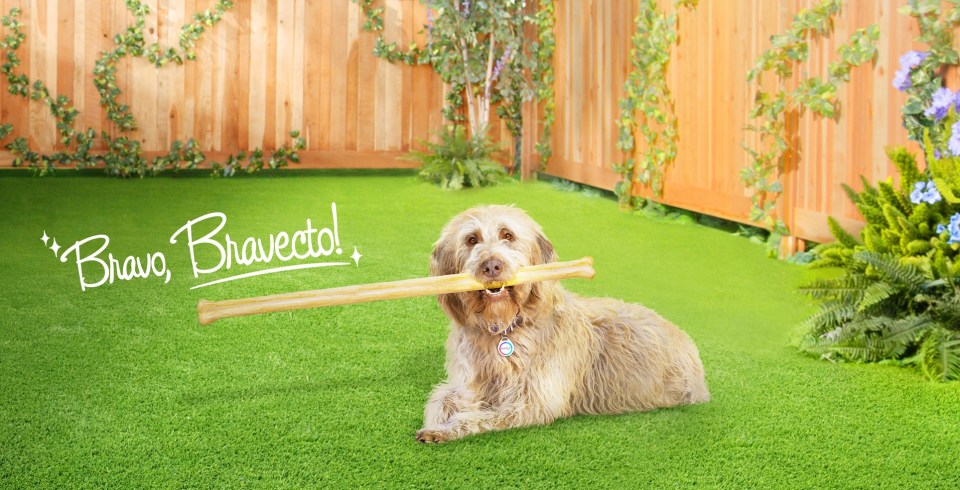 To help remind dog owners of the importance of flea and tick medication, the new
"Bravo, BRAVECTO" creative can be found on multiple platforms including streaming services
like Hulu and Roku and across social channels. The campaign videos star a Silver Labrador
Retriever mixed with a standard Poodle, and the dog houses and other pet supplies featured on
set were donated to benefit the Arizona Humane Society.
BRAVECTO Chews for Dogs is available in five strengths (112.5, 250, 500, 1000, and
1400 mg fluralaner) per chew. To learn more about BRAVECTO and our innovative flea and tick
treatments, visit us.bravecto.com.
About BRAVECTO ®
Since its introduction in 2014, BRAVECTO has provided longer-lasting flea and tick
protection, with more than 250 million doses distributed in 85 countries over eight years.
BRAVECTO is available in a variety of formulations, including products for both dogs and cats.
The flea lifecycle can last as long as 12 weeks, and monthly treatments may leave gaps
in protection. Providing pets with continuous flea and tick protection is essential – whether the
pet goes outside or not. Contrary to popular belief among pet owners, fleas and ticks are not
only active in the spring and summer months and are a year-round risk. Fleas and ticks can
easily latch onto dogs and cats and can spread serious diseases. Fleas are the most common
external parasite found on pets. BRAVECTO products require a prescription by a licensed
veterinarian and are available at veterinarian offices as well as many retailers where pet
medications can be found.
Important Safety Information
BRAVECTO (fluralaner) Chews for Dogs: The most commonly reported adverse
reactions include vomiting, lethargy, diarrhea, anorexia and pruritus. In some cases, adverse
events have been reported following use in breeding females. BRAVECTO Chews has not
been shown to be effective for 12-weeks' duration in puppies less than 6 months of age.
BRAVECTO Chews is not effective against lone star ticks beyond 8 weeks of dosing.
Fluralaner is a member of the isoxazoline class. This class has been associated with neurologic
adverse reactions including tremors, ataxia , and seizures. Seizures have been reported in dogs
receiving isoxazoline class drugs, even in dogs without a history of seizures. Use with caution in
dogs with a history of seizures or neurologic disorders.
About SENTINEL ® SPECTRUM ® Chews
SENTINEL ® SPECTRUM ® Chews are indicated for the prevention of heartworm disease
caused by Dirofilaria immitis; for the prevention and control of flea populations (Ctenocephalides
felis); and for the treatment and control of adult roundworm (Toxocara canis, Toxascaris
leonina), adult hookworm (Ancylostoma caninum), adult whipworm (Trichuris vulpis), and adult
tapeworm (Dipylidium caninum, Taenia pisiformis, Echinococcus multilocularis and
Echinococcus granulosus) infections in dogs and puppies two pounds of body weight or greater
and six weeks of age and older. Available in prescription only.
Important Safety Information
SENTINEL ® SPECTRUM ® CHEWS: Dogs should be tested for heartworm prior to use.
Mild hypersensitivity reactions have been noted in some dogs carrying a high number of
circulating microfilariae. Treatment with fewer than 6 monthly doses after the last exposure to
mosquitoes may not provide complete heartworm prevention. For complete product information
refer to the product insert.
About Merck Animal Health
At Merck, known as MSD outside of the United States and Canada, we are unified
around our purpose: We use the power of leading-edge science to save and improve lives
around the world. For more than a century, we've been at the forefront of research, bringing
forward medicines, vaccines and innovative health solutions for the world's most challenging
diseases. Merck Animal Health, a division of Merck & Co., Inc., Rahway, N.J., USA, is the global
animal health business of Merck. Through its commitment to The Science of Healthier Animals ® ,
Merck Animal Health offers veterinarians, farmers, pet owners and governments one of the
widest ranges of veterinary pharmaceuticals, vaccines and health management solutions and
services as well as an extensive suite of connected technology that includes identification,
traceability and monitoring products. Merck Animal Health is dedicated to preserving and
improving the health, well-being and performance of animals and the people who care for them.
It invests extensively in dynamic and comprehensive R&D resources and a modern, global
supply chain. Merck Animal Health is present in more than 50 countries, while its products are
available in some 150 markets. For more information, visit www.merck-animal-health.com and
connect with us on LinkedIn, Facebook, Twitter and Instagram.
BRAVECTO Chew for Dogs [prescribing information]. Madison, NJ: Merck Animal Health
Health for Animals Global Animal Health Association, "Global State of Pet Care", 2021
United States Department of Agriculture, "National Haemaphysalis longicornis (Asian longhorned tick) Situation Report,"
2023