Merck Animal Health Receives FDA Approval of AROVYN™
New prescription antibiotic option for BRD, pinkeye and foot rot
MADISON, N.J., March 3, 2022 – Merck Animal Health, known as MSD Animal Health outside the United States and Canada, a division of Merck & Co., Inc., Kenilworth, New Jersey, USA (NYSE:MRK), today announced it has received U.S. FDA approval of AROVYN™ (tulathromycin injection) – a broad-spectrum, prescription antibiotic that treats the major organisms associated with bovine respiratory disease (BRD), foot rot and pinkeye.
"Merck Animal Health is pleased to add AROVYN to our comprehensive, trusted portfolio of cattle antimicrobials. AROVYN gives veterinarians a new option when prescribing tulathromycin – which is proven to help treat some of the most common and costly cattle disease challenges," said David Sjeklocha, D.V.M., technical services manager, Merck Animal Health. "While adhering to vaccination protocols can certainly help keep animals healthy, some animals still will get sick. New AROVYN is for those situations requiring early diagnosis and an effective treatment program, so animals can recover quickly."
In beef and non-lactating dairy cattle, AROVYN is indicated for the treatment of BRD and control of respiratory disease in animals at high risk of developing BRD associated with Mannheimia haemolytica, Pasteurella multocida, Histophilus somni and Mycoplasma bovis. It also is approved for treatment of pinkeye or infectious bovine keratoconjunctivitis (IBK) associated with Moraxella bovis, plus treatment of foot rot associated with Fusobacterium necrophorum and Porphyromonas levii. In suckling calves, dairy calves and veal calves, AROVYN is indicated for treatment of BRD associated with M. haemolytica, P. multocida, H. somni and M. bovis.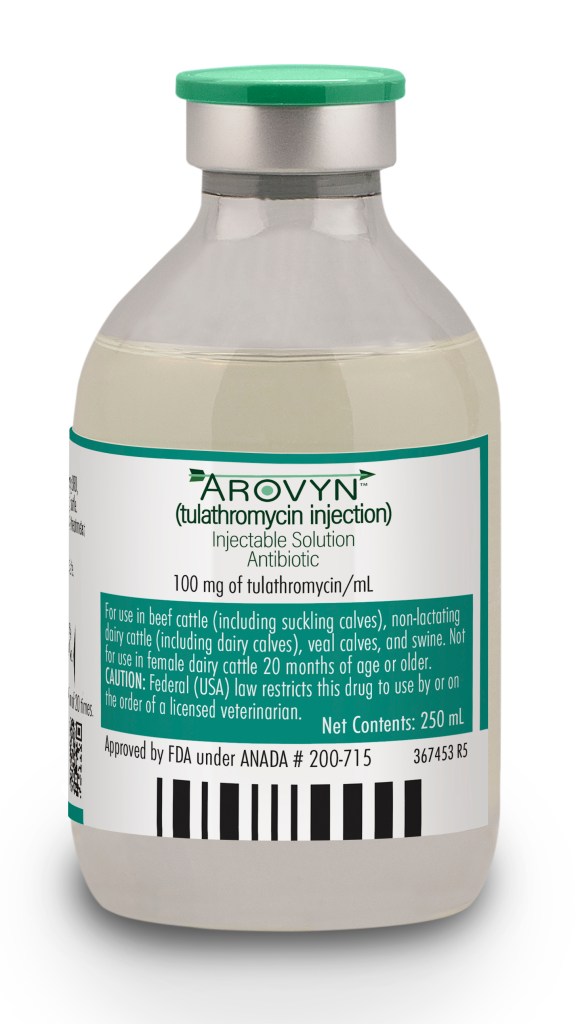 "Our commitment to continuously improve the health and well-being of cattle is the driving force behind our work to bring new vaccines, diagnostic technologies and antimicrobials to market," said Dr. Sjeklocha. "In the past 18 months to help our customers better manage BRD, Merck Animal Health has introduced two innovative diagnostic technologies WHISPER® ON ARRIVAL and SenseHub® Feedlot, a first-of-its-kind intranasal vaccine BOVILIS® NASALGEN® 3-PMH and now AROVYN, an antimicrobial important in many cattle treatment protocols."
AROVYN – a prescription antibiotic for cattle and swine – will be available from or on the order of a licensed veterinarian starting in May 2022. It will come in 100-, 250- and 500-mL vials. It is manufactured in the same facility as other Merck Animal Health antimicrobials, such as ZUPREVO® (tildipirosin), with the same high quality assurance guidelines.
To learn more about AROVYN, visit www.merck-animal-health-usa.com.
IMPORTANT SAFETY INFORMATION
CATTLE: AROVYN has a pre-slaughter withdrawal time of 18 days in cattle. Do not use in female dairy cattle 20 months of age or older. Do not use in animals known to be hypersensitive to the product. See full Prescribing Information.
SWINE: The pre-slaughter withdrawal time for AROVYN in swine is five days. AROVYN should not be used in animals known to be hypersensitive to the product.
About Merck Animal Health
For over 130 years, Merck, known as MSD outside the United States and Canada, has been inventing for life, bringing forward medicines and vaccines for many of the world's most challenging diseases. Merck Animal Health, a division of Merck & Co., Inc., Kenilworth, N.J., USA, is the global animal health business unit of Merck. Through its commitment to The Science of Healthier Animals®, Merck Animal Health offers veterinarians, farmers, pet owners and governments one of the widest ranges of veterinary pharmaceuticals, vaccines and health management solutions and services as well as an extensive suite of connected technology that includes identification, traceability and monitoring products. Merck Animal Health is dedicated to preserving and improving the health, well-being and performance of animals and the people who care for them. It invests extensively in dynamic and comprehensive R&D resources and a modern, global supply chain. Merck Animal Health is present in more than 50 countries, while its products are available in some 150 markets. For more information, visit www.merck-animal-health.com and connect with us on LinkedIn, Facebook, Twitter and Instagram.