Merck Animal Health Recognizes 4-H Members for Advocacy Work
SUMMIT, N,.J., September 3, 2014 – In support of its commitment to 4-H, education and the development of the next generation of industry leaders, Merck Animal Health has proudly sponsored the inaugural Young Advocates for Agriculture Award. Through this award, high school students are recognized for their grass roots advocacy efforts in support of the agricultural industry. Sarah Schuster of Dane County, Wisc., the recipient of this year's award, was honored for her work in educating youth leaders and other 4-H members about the significance and value of science and technology in agriculture.
"Merck Animal Health is committed to developing and empowering the next generation of leaders within our industry," says Jim Miles, Merck Animal Health. "There is a real and growing need for people within agriculture to help bridge the information gap – to help tell our respective stories about why agriculture is a crucial part of our world. We are pleased to be able to help support those students who already are advocating on behalf of the industry and hope this award, as well as other programs and recognitions, inspire others to get involved."
The advocacy award is an extension of the 4-H National Youth Agri Science Summit, which was held earlier this year. Sponsored by Merck Animal Health, the summit provided numerous opportunities for 4-H high school students to learn about the latest innovations in agricultural science and technology, as well as increase their awareness of careers in these rapidly expanding fields. After attending the summit, Schuster felt she was armed with a wealth of knowledge, and was inspired to share it with youth leaders in her community.
"Engaging and educating our youth around the future of the agriculture industry is vitally important," says Christina Alford, executive vice president of external relations, National 4-H Council. "Through our partnership with Merck Animal Health, 4-H'ers develop the skills that will help them in future agricultural careers and allow them the opportunity to showcase their abilities to experts in the field."
The finalists and grand prize winner each received a scholarship to attend the 2015 National Youth Agri-Science Summit, plus $500 to put toward their respective advocacy projects. In addition, the grand prize winner received a $2,000 award that can be directed toward a project or a related youth agriculture education program in the winner's community.
About Merck Animal Health
Today's Merck is a global healthcare leader working to help the world be well. Merck Animal Health, known as MSD Animal Health outside the United States and Canada, is the global animal health business unit of Merck.Through its commitment to the Science of Healthier Animals™, Merck Animal Health offers veterinarians, farmers, pet owners and governments one of the widest range of veterinary pharmaceuticals, vaccines and health management solutions and services. Merck Animal Health is dedicated to preserving and improving the health, well-being and performance of animals. It invests extensively in dynamic and comprehensive R&D resources and a modern, global supply chain. Merck Animal Health is present in more than 50 countries, while its products are available in some 150 markets. For more information, visit www.merck-animal-health.com or connect with us on LinkedIn and Twitter at @MerckAH.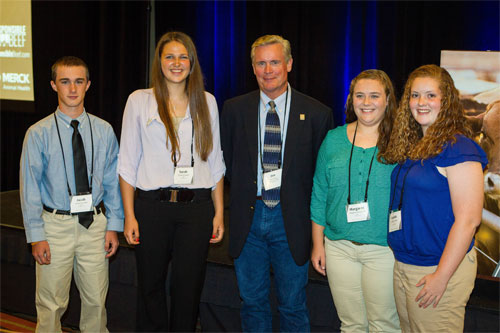 Merck Animal Health Senior Marketing Manager, Jim Miles (center), is pictured with the four finalists of the Young Advocates for Agriculture Award. Sarah Schuster of Dane County, Wisc., (left of Miles), was the overall winner of the award with her work in educating youth leaders and other 4-H members about the important of science and agriculture. Other finalists were Jacob Newkirk of Cumberland County, N.J., and Margaret Brownell and Kaylah Gulley, of Washington County, N.Y.
About 4-H
4-H, the nation's largest youth development and empowerment organization, cultivates confident kids who tackle the issues that matter most in their communities right now. In the United States, 4-H programs empower 6 million young people through the 109 land-grant universities and Cooperative Extension in more than 3,000 local offices serving every county and parish in the country. Outside the United States, independent, country-led 4-H organizations empower 1 million young people in more than 50 countries. National 4-H Council is the private sector, non-profit partner of the Cooperative Extension System and 4-H National Headquarters located at the National Institute of Food and Agriculture (NIFA) within the United States Department of Agriculture (USDA). Learn more about 4-H at www.4-H.org, find us on Facebook at www.facebook.com/4-H and on Twitter at https://twitter.com/4H.
Merck Forward-Looking Statement
This news release includes "forward-looking statements" within the meaning of the safe harbor provisions of the United States Private Securities Litigation Reform Act of 1995. These statements are based upon the current beliefs and expectations of Merck's management and are subject to significant risks and uncertainties. If underlying assumptions prove inaccurate or risks or uncertainties materialize, actual results may differ materially from those set forth in the forward-looking statements.
Risks and uncertainties include but are not limited to, general industry conditions and competition; general economic factors, including interest rate and currency exchange rate fluctuations; the impact of pharmaceutical industry regulation and health care legislation in the United States and internationally; global trends toward health care cost containment; technological advances, new products and patents attained by competitors; challenges inherent in new product development, including obtaining regulatory approval; Merck's ability to accurately predict future market conditions; manufacturing difficulties or delays; financial instability of international economies and sovereign risk; dependence on the effectiveness of Merck's patents and other protections for innovative products; and the exposure to litigation, including patent litigation, and/or regulatory actions.
Merck undertakes no obligation to publicly update any forward-looking statement, whether as a result of new information, future events or otherwise. Additional factors that could cause results to differ materially from those described in the forward-looking statements can be found in Merck's 2013 Annual Report on Form 10-K and the company's other filings with the Securities and Exchange Commission (SEC) available at the SEC's Internet site (www.sec.gov).