Merck Animal Health Launches ShutOut™
New teat sealant designed for today's dry cow management programs
MADISON, N.J., January 10, 2020 – Merck Animal Health (known as MSD Animal Health outside the United States and Canada) today launched ShutOut™, an easy-to-administer teat sealant for the prevention of new intramammary infections throughout the dry period – the timeframe when cows are at the greatest risk.
"Given the environmental and physiological changes they experience at dry-off, cows are at an elevated risk for developing mastitis," says Brian Miller, D.V.M., ruminant technical services veterinarian. "Pathogen risk is greater, partly due to variability in keratin plug formation, a cow's natural defense against new intramammary infections during the dry period."
One study showed that nearly 25 percent of teat ends remain open as long as six weeks after dry-off, making cows more susceptible to infection.1 The National Mastitis Council's (NMC) Recommended Mastitis Control Program recommends using a teat sealant when dry cows are exposed to high levels of environmental pathogens.2
An effective line of defense
A critical component to an effective dry cow management program, ShutOut is a sterile, antibiotic-free barrier designed for ease of use to meet the needs of today's dairy operations. A comparative study demonstrated a very syringeable product formulated to stay in place at the time of administration.3 With a short plunger stroke, dual-tip option and an easy-to-break cap, producers can efficiently treat their herd at dry-off.
NMC reinforces the benefits of internal teat sealants. When used in uninfected quarters, teat sealants have shown to prevent significantly more new infections than using no treatment at all.4 Research also shows that when there is a dry period infection, a teat sealant used in combination with an antibiotic, significantly reduces the severity of the infection more than using an antibiotic alone.4
"Producers can rest easy knowing when ShutOut is administered, it'll effectively seal the cow's teats," says Dr. Miller. "ShutOut provides a trusted, physical barrier to prevent environmental organisms from entering the udder."
A comprehensive dry cow solution
ShutOut can be used in a more comprehensive approach to dry cow management which includes Bovilis® J-5 vaccination, Guardian® cattle vaccine for calf scours prevention, and . Orbenin-DC® dry cow antibiotic treatment.
Product details
Each syringe of ShutOut consists of 4.0 grams of a sterile, antibiotic-free, intramammary paste containing 2.6 grams of bismuth subnitrate. ShutOut is designed with an ergonomically-friendly, dual-tip syringe with the flexibility to choose between a short tip or long tip. ShutOut is available in 144-syringe buckets and 24-syringe boxes. Both include biodegradable, disinfectant wipes for udder prep. To learn more, visit ShutOutForDairy.com.
About Merck Animal Health
For more than a century, Merck, a leading global biopharmaceutical company, has been inventing for life, bringing forward medicines and vaccines for many of the world's most challenging diseases. Merck Animal Health, a division of Merck & Co., Inc., Kenilworth, N.J., USA, is the global animal health business unit of Merck. Through its commitment to the Science of Healthier Animals®, Merck Animal Health offers veterinarians, farmers, pet owners and governments one of the widest ranges of veterinary pharmaceuticals, vaccines and health management solutions and services as well as an extensive suite of digitally connected identification, traceability and monitoring products. Merck Animal Health is dedicated to preserving and improving the health, well-being and performance of animals and the people who care for them. It invests extensively in dynamic and comprehensive R&D resources and a modern, global supply chain. Merck Animal Health is present in more than 50 countries, while its products are available in some 150 markets. For more information, visit www.merck-animal-health.com or connect with us on LinkedIn, Facebook, and Twitter at @MerckAH.
Dingwell R, Leslie K, Sargeant J, Schukken Y, Timms L. Impact of milk production and important management factors on the process of dry-off in lactating dairy cows. Kansas Agricultural Experiment Station Research Reports, 2001.
NMC Recommended Mastitis Control Program, August 2000.
Data on file, Merck Animal Health, November 2019.
NMC Factsheet – Dry Cow Therapy, 2006.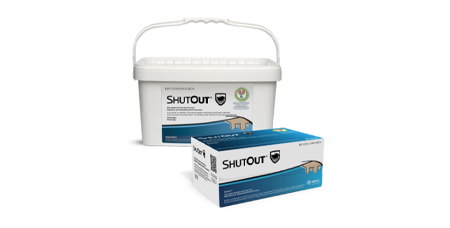 Photo: Merck Animal Health today launched ShutOut™, an easy-to-administer teat sealant for the prevention of new intramammary infections throughout the dry period.