MOMETAMAX® OTIC SUSPENSION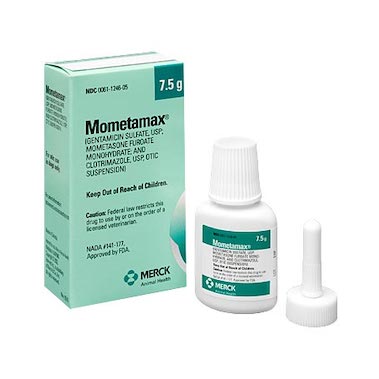 Mometamax (Gentamicin Sulfate, Mometasone Furoate Monohydrate, and Clotrimazole, Otic Suspension) is an otic suspension for the treatment of otitis externa in dogs caused by susceptible strains of yeast and bacteria.
(gentamicin sulfate, mometasone furoate monohydrate, clotrimazole)
Diseases/Parasites
Pharmaceutical Name
Gentamicin Sulfate, USP, Mometasone Furoate Monohydrate and Clotrimazole, USP Otic Suspension
Description
Each gram of Mometamax Otic Suspension contains gentamicin sulfate, USP equivalent to 3 mg gentamicin base; mometasone furoate monohydrate equivalent to 1 mg mometasone; and 10 mg clotrimazole, USP in a mineral oil-based system containing a plasticized hydrocarbon gel.
Indications
Mometamax is indicated for the treatment of otitis externa in dogs caused by susceptible strains of yeast (Malassezia pachydermatis) and bacteria (Pseudomonas spp. incl. P. aeruginosa, coagulase positive staphylococci, Enterococcus faecalis, Proteus mirabilis, and beta-hemolytic streptococci.)
Features and Benefits
Once-a-day Treatment You Can Count On.1
Helps promote client compliance to ensure treatment success
Mometasone furoate monohydrate – Rapidly controls inflammation to reduce related pain and irritation
7.7 times more potent than betamethasone.1

New study reports no adrenocortical suppression with topical administration.2

No corticosteroid-related side effects observed in canine clinical trials.1

Clotrimazole
Documented efficacy against Malassezia pachydermatis
Gentamicin – Broad-spectrum antibacterial efficacy.1
Highly active against gram-positive and gram-negative bacteria
Administration and Dosage
Administer once daily for 7 days

4 drops per ear for dogs <30 lbs

8 drops per ear for dogs = or > 30 lbs
Vehicle
Solution-like consistency for clear advantages
Ensures prolonged contact at the site of infection

Colorless solution is easy to differentiate from exudate

Hydrocarbon formulation consistency facilitates easy counting of drops for proper dosing
Supplied
Mometamax Otic Suspension is available in 7.5 g, 15 g, 30 g and 215 g plastic bottles.
Fair Balance
Mometamax Otic Suspension should be discontinued if any hypersensitivity to its components occurs. Do not use in dogs with known tympanic perforation. For side effects and warnings, please see accompanying Product Information.
For additional information, please see the product label.