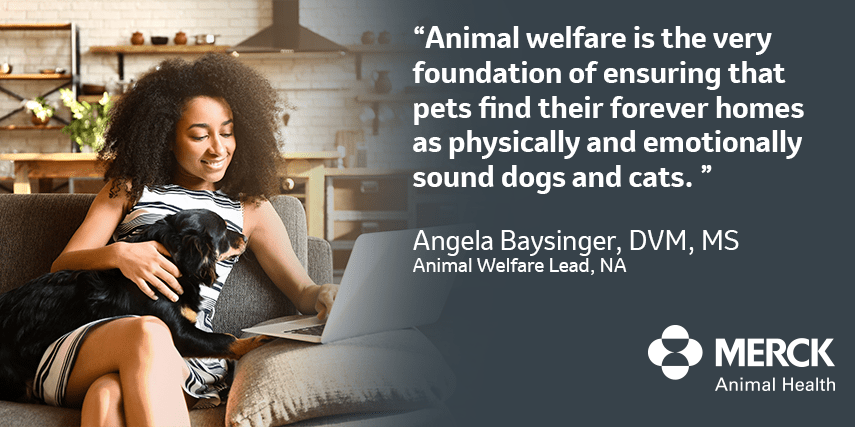 Ensuring Animal Welfare in Our Shelters
By Angela Baysinger, DVM, MS – Animal Welfare Lead, NA
Growing up on my family's farm in Missouri is when I first decided I wanted to become a
veterinarian. Dr. Don Hudson was our family's vet, and from the day I told him that I wanted to
be a veterinarian (at the age of 6 years old), he had me help perform procedures on the animals
from vaccinating my cat named "Germ" to assisting with the birth of baby pigs. I was constantly
testing the limits with my parents by bringing home stray or homeless animals to add to our
farm. My friends and family knew I was dedicated to animal health and welfare from a very early
age.
As the Animal Welfare Lead for North America at Merck Animal Health, I have the privilege of
spending every day focused on what I'm passionate about: Animal Welfare. I've said it before,
and I'll say it again, it's my dream job. In my role, I work with stakeholders across species to find
ways to Advance Animal Welfare Together. I have the opportunity to work with colleagues, pet
parents, farmers and ranchers, youth in agriculture, non-profits, universities, and a host of other
individuals and organizations to collaborate on this topic that is vital to the health and well-being
of animals from cows and chickens to dogs and cats.

A few days ago, my colleague, Dr. Matthew Goetz, Senior Professional Services Veterinarian –
Animal Welfare Organizations, on our Companion Animal Team spoke with me about how
animal health and welfare are addressed in shelters and the impact of COVID-19 on the way
they've had to do things. We are both committed to shelter animal welfare and ensuring we
take away some key learnings from the global pandemic. I want to share parts of our
conversation that you might find helpful.
Animal welfare is the very foundation of ensuring that pets find their
forever homes as physically and emotionally sound dogs and cats.
Not only are we making sure that these pets receive the Five Freedoms of animal welfare, but in
most cases, everyone in the shelter, from the veterinarian to the volunteers, go beyond to
provide for those animals. The Five Freedoms are foundational to animal welfare in all settings
– on our farms and ranches, in our homes, and in shelters.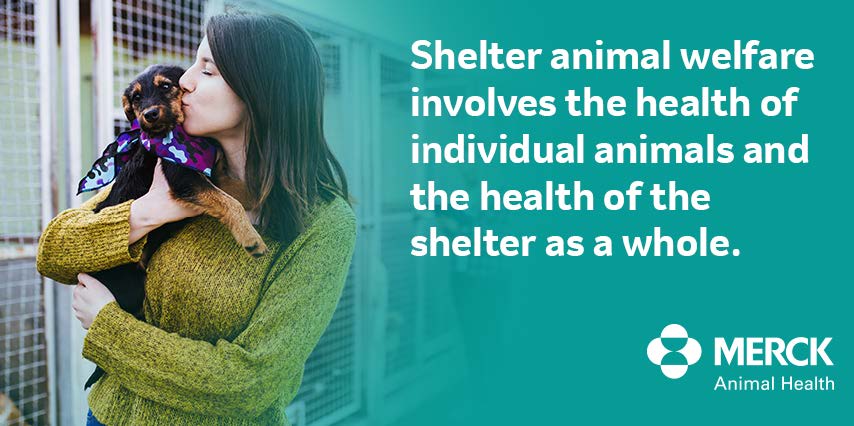 Shelter animal welfare involves the health of individual animals and
the health of the shelter as a whole.
Dr. Goetz and I discussed this crucial nuance. In shelter medicine, veterinarians and caretakers
ensure the physical and mental health of an individual animal and all of the animals housed
within the shelter. Research has shown that shelters that prioritize the highest standards of care
for the animals see a decrease in the length of stay and therefore see a reduction in medical
and behavioral issues.
Animal shelters have not escaped the impact of the global pandemic –
but will it last?
Like all aspects of our lives, COVID-19 also has affected shelters. On the upside, shelters have
gone empty in many parts of the country as people moved to empty shelters and adopt or foster
pets into their families. These animals are now enjoying life in homes with families. This has
allowed them to have more normal lives as pets receiving lots of undivided attention. Now that
people are at home more, they can care for and interact more regularly with their pets – more
walks, more fetch games, more watching TV curled up together, etc.
The flip side of the "shelter-coin" is that a time will come when humans go back to more regular
schedules – more extended periods away from home, less time to volunteer as a foster home
for a shelter pet, fewer walks with our dogs, and playtime with our cats, etc. These anticipated
shifts in our lives beg the question – How will this affect pets in our homes – full-time and/or
fostered? There is some concern that we will see an influx of pets returned to shelters.
After all, the last thing any of us want to see is more animals in shelters post-pandemic due to
behavioral issues or because people no longer have time for the pets they fostered or adopted
during the pandemic. The shelter community is expanding community involvement to enhance
and assist foster home providers and access to veterinary care for diverse and under-served
pet-owner populations.
Dr. Goetz and I discussed how the pandemic may fundamentally shift the operation of shelters
and how this may impact animal welfare. A few questions we are thinking about:

How do we ensure that shelter staff and volunteers are supported as they
experience compassion fatigue? Helping the shelter staff & volunteers with emotional
support will enhance the animal's well-being and adoption chances.

How do we continue to support shelters as their operational styles evolve –
maybe more animals housed in foster homes than actual shelters, as volunteers,
through financial support and other resources?
Animal welfare is continuously improving as we learn more about best practices, including
welfare in animal shelters. It may cause you to think differently the next time you visit a shelter.
I'd love to hear your thoughts on this topic.
Merck Animal Health is committed to improving animals' health and well-being through
innovative science-based solutions, products, and services. Earlier this year, we rolled out our
new Unconditional campaign to highlight our core social commitments – one of which is
Unconditional compassion for animal care and welfare. Just this year, Merck Animal Health
has already contributed nearly $150,000 to local shelters – primarily through their grassroots
fundraisers, and globally we reached the milestone of 3 million cumulative doses of rabies
vaccines donated worldwide.
As a company, Merck Animal Health can support shelters with our knowledge and products and
financially. A few of my favorites – at least by name, are Barks & Bourbon 2020, Spay Soiree
2020, Tails of Hope Telethon, Strut Your Mutt, and St. Pawtricks Day Fundraiser.

If you're like me and want to ensure all animals – on our farms and ranches, in our homes, and
those yet to be adopted in shelters or foster homes, receive the highest standard of care, I invite
you to learn more about this unique space. A few resources I've found beneficial that you might
find insightful are the Guidelines for Standards of Care in Animal Shelters developed by the
Association of Shelter Veterinarians and two blogs – Bringing a New Dog Home: Successful
Adoption Habits and Golden Years: Adopting and Loving a Senior Dog. You also can learn
more about Merck Animal Health's Unconditional commitment to animal welfare here.