The Truth About Animal Agriculture's Environmental Impact
Know the Facts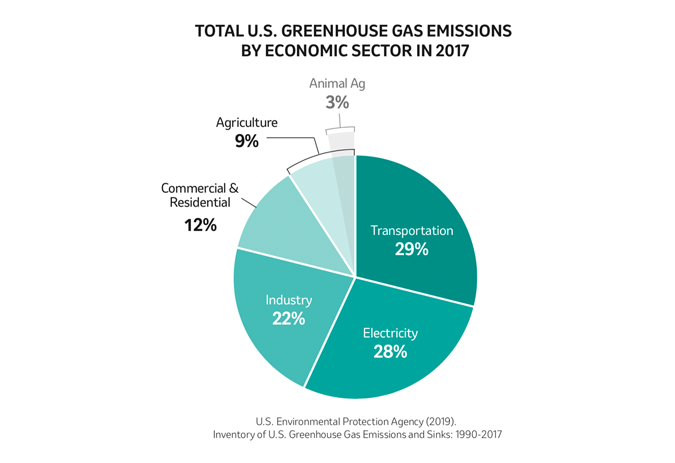 With climate change in the news daily, it's difficult for consumers to know what or who to believe.
A white paper published in November by Climate Healers, a special interest group headquartered in Phoenix, AZ, painted a dire picture for animal agriculture, claiming it accounts for an estimated 87% of annual greenhouse gas (GHG) emissions. It also stated that annual methane emissions from animal agriculture caused more incremental global warming than the annual CO2 emissions from all fossil fuel sources combined.
Not so fast, says Frank Mitloehner, Ph.D., professor and air quality extension specialist at the Department of Animal Science at the University of California, Davis. He provided testimony to the U.S. Senate Committee on Agriculture, Nutrition and Forestry earlier this year to "debunk the myth" that animal agriculture poses the "greatest environmental threat to our planet."
Mitloehner told the Senate committee:
Based on information from the U.S. Environmental Protection Agency, agriculture as a whole contributes 9% of the total US GHG emissions, while animal agriculture contributes only 3.9%1
Food waste is the largest contributing factor to agriculture's carbon and overall environmental footprint with 40% of food produced in the United States going to landfills2
Agriculture's GHG emissions pale in comparison to transportation at 29%, electricity at 28% and industry at 22%1
According to Dr. Mitloehner's testimony, the United Nations Food and Agriculture's statistical database shows the total direct greenhouse gas emissions from U.S. livestock have declined 11.3% since 1961, while livestock production has more than doubled2
These efficiencies in U.S. animal agriculture mean less land and water is being used to produce the same amount of beef compared to 1970 and the same amount of pork as 19602
"Sustainability, careful stewardship of natural resources and continuous improvement are priorities for farmers – and for us in animal Health," said Judson Vasconcelos, head, Veterinary and Consumer Affairs, Merck Animal Health. "Transition is a process and over the past 20-50 years, significant progress has been made in agriculture. Our social responsibilities extend beyond our primary business goals and include support of sustainable farming practices and our customers as they continuously improve."
It's important to note that a beef sustainability research report funded by the Beef Checkoff, reminds us that cattle have a specialized stomach that converts forages of little value to high quality protein. "The U.S. beef cattle industry provides more than two times the high-quality protein (accounting for amino acid profile and bioavailability) to the U.S. food supply than cattle consume: cattle directly contribute to food security," states the report3.
Check this out: A Sustainable Food Supply in Perspective
Reference:
1. United States Environmental Protection Agency (EPA). Greenhouse Gas Emissions. Sources of Greenhouse Gas Emissions. Total U.S. Greenhouse Gas Emissions by Economic Sector in 2017. 2019. https://www.epa.gov/ghgemissions/sources-greenhouse-gas-emissions. Accessed November 20, 2019.

2. University of California, Davis. Mitloehner, F. Testimony before the Committee on Agriculture, Nutrition and Forestry U.S. Senate. May 21, 2019. https://www.agriculture.senate.gov/imo/media/doc/Testimony_Mitloehner_05.21.2019.pdf. Accessed November 20, 2019.
3. Baber, J.R. et al. Estimation of human-edible protein conversion efficiency, net protein contribution, and enteric methane production from beef production in the United States. Trans. Anim. Sci. 2018. 2:439-450.