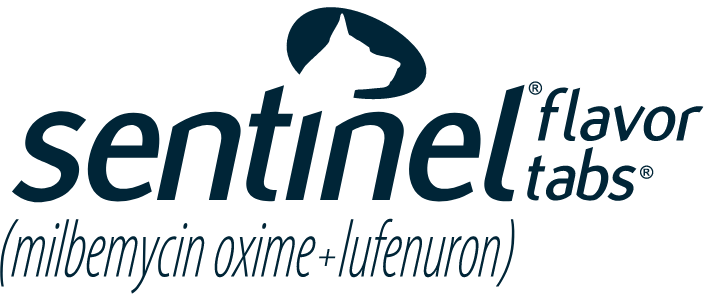 Provides protection against 5
different kinds of parasites
Dogs love the taste, making administration easy and convenient.1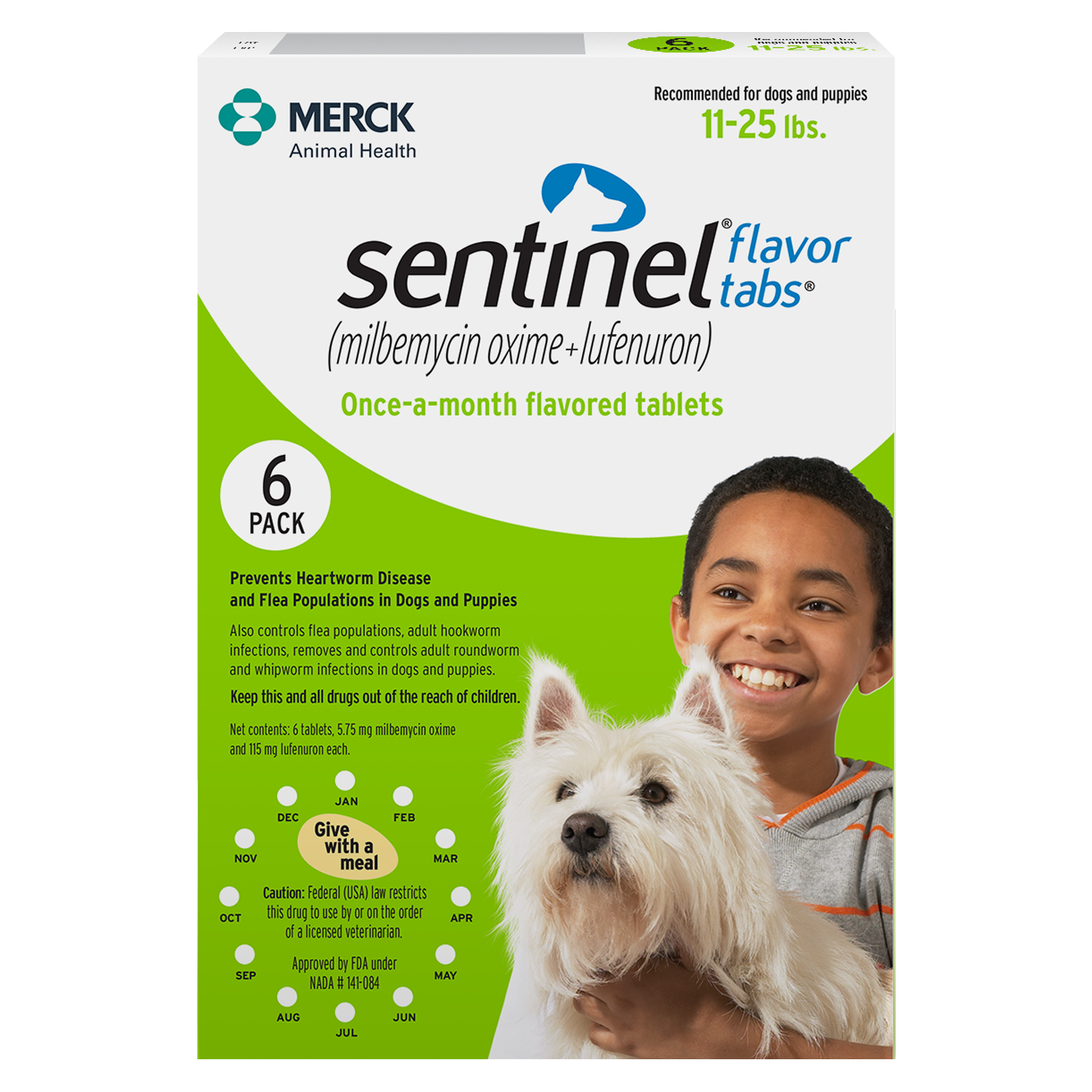 SENTINEL® FLAVOR TABS®
Protects against heartworms, hookworms, roundworms, whipworms, and flea populations.
Protects against 5 different kinds of parasites.
Unique to SENTINEL brand products, lufenuron prevents flea eggs from hatching.2
Also protects against heartworms, hookworms, roundworms and whipworms.2
SENTINEL FLAVOR TABS does all this with a once-a-month pork, liver-flavored tablets dogs love.1,3
Dosing for SENTINEL FLAVOR TABS

You've Got Options
With SENTINEL FLAVOR TABS, you have an alternative that protects against 5 types of parasites. SENTINEL FLAVOR TABS are tablets that do not contain praziquantel, which is used to treat and control adult tapeworms.1
Indications
SENTINEL FLAVOR TABS are indicated for use in dogs and puppies, four weeks of age and older, and two pounds of body weight or greater. SENTINEL FLAVOR TABS are also indicated for the prevention of heartworm disease caused by Dirofilaria immitis, for the prevention and control of flea populations, the control of adult Ancylostoma caninum (hookworm), and the removal and control of adult Toxocara canis and Toxascaris leonina (roundworm) and Trichuris vulpis (whipworm) infections. Lufenuron controls flea populations by preventing the development of flea eggs and does not kill adult fleas. Concurrent use of an adulticide product may be necessary for adequate control of adult fleas. Available by prescription only.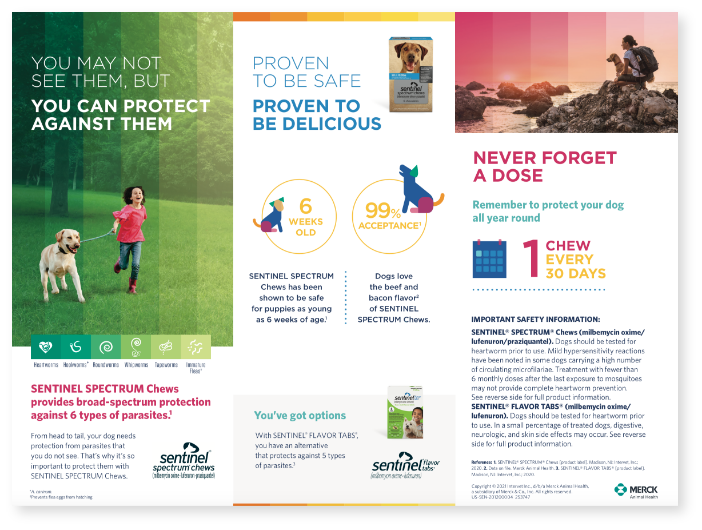 Download the
SENTINEL Brochure
With SENTINEL SPECTRUM Chews, your canine patients and their owners can live life to the fullest—free from fear of parasites they may not see.
Stay informed of the most recent news, studies, webinars, programs and product information from Merck Animal Health.
Sentinel Sign Up Form
"*" indicates required fields
IMPORTANT SAFETY INFORMATION:
SENTINEL FLAVOR TABS: Dogs should be tested for heartworm prior to use. Mild hypersensitivity reactions have been noted in some dogs carrying a high number of circulating microfilariae. Treatment with fewer than 6 monthly doses after the last exposure to mosquitoes may not provide complete heartworm prevention. For complete product information refer to the product insert.
References:
SENTINEL® FLAVOR TABS® [Freedom of Information] NADA #141-084.
SENTINEL® FLAVOR TABS® [prescribing information] Madison, NJ: Merck Animal Health; 2020.
Data on file. Merck Animal Health.