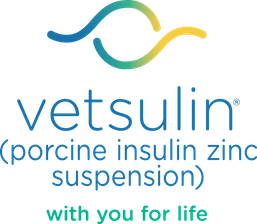 Syringe Administration
Learn More About Dosing & Administration
How to Administer Using a U-40 Insulin Syringe
Use these step-by-step instructions to teach your clients how to administer Vetsulin® (porcine insulin zinc suspension) to their cat from the comfort of home.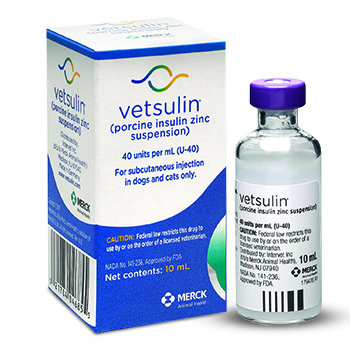 Important Dosage Information
Doses of insulin are measured in units: 40 IU/mL insulin contains 40 International Units (IU) per milliliter (mL) (1 mL = 1 cc).
Because Vetsulin has a concentration of 40 IU per mL of solution, a U-40 insulin syringe or VetPen must be used to achieve correct dosing. Use of a syringe other than a U-40 (or use of a 100 UI/mL cartridge or human insulin pen) will result in incorrect dosing. U-100 syringes and human insulin pens will deliver less than half the required Vetsulin dose.
Conversely, if a client uses a U-40 insulin syringe or VetPen with a 100 IU/mL insulin preparation, he or she would inject about two and a half times the amount of insulin needed. This could cause fatal hypoglycemia.
Strongly encouraging clients to purchase Vetsulin, U-40 insulin syringes, and VetPen from your veterinary hospital is the best way to protect your patients from incorrect insulin dosing. Remind your clients that using U-100 syringes and insulin pens from a human pharmacy to administer Vetsulin will result in incorrect insulin dosing, which puts their pet in danger of experiencing serious health consequences.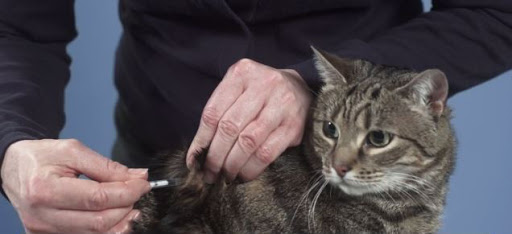 Administration
To help your clients prepare and administer Vetsulin to their cats, there are resources available that guide them step-by-step through the process.
Preparing the Dose:
After washing your hands, take the Vetsulin (porcine insulin zinc suspension) vial out of the refrigerator. Shake the vial until the insulin is uniformly milky, allowing any foam to disperse.
Carefully remove the cap from the needle and insert the needle into the vial.
Turn the vial upside down, making sure the tip of the needle remains in the vial.
Withdraw the correct dose into the U-40 insulin syringe.
Before removing the needle from the vial, check the syringe for any air bubbles.
If bubbles are present, hold the syringe up and tap its side until the bubbles float to the top. Push them out with the plunger and withdraw the correct dose.
Remove the needle from the vial.
Giving the Injection
Giving injections may seem daunting–but with practice, it can be easy and fit into your daily routine.
Injection should be given under the skin, 3/4 to 2 inches from the middle of your cat's back, varying from behind the shoulder blades to the middle of the back region and alternating sides.
Gently insert needle in center of folded skin.
Push plunger until all of the insulin is given.
Pull needle out and dispose of syringe into appropriate sharps collector.
Injection Tips:
Injection point can depend upon your veterinarian's recommendation and what is best for you and your cat.
Alternate injection site between left and right side for comfort and best results. Repeat injections at the same site can lead to ineffective treatment.
If only a partial dose is given, do not attempt to re-dose. Wait and give your cat its usual dose at the next injection time.
Downloadable Vetsulin® Instructions For Cats
A helpful PDF to help clients prepare and administer Vetsulin to their cats.
Help Your Practice Manage Diabetes Mellitus
Check out these tools and resources to help manage feline diabetes.
Blood Glucose Curve Generator
Create a blood glucose curve to monitor and evaluate diabetes treatments.
Create a customized, printable form for clients about their new diagnosis.
Access online tools and more to support staff and pet parents.
Learn More About Dosing& Administration
Important Safety Information:
Vetsulin® should not be used in dogs known to have a systemic allergy to pork or pork products. Vetsulin is contraindicated during periods of hypoglycemia. Keep out of reach of children. As with all insulin products, careful patient monitoring for hypoglycemia and hyperglycemia is essential to attain and maintain adequate glycemic control and prevent associated complications. Overdosage can result in profound hypoglycemia and death. The safety and effectiveness of Vetsulin in puppies, breeding, pregnant, and lactating dogs has not been evaluated. See package insert for full information regarding contraindications, warnings, and precautions.
References: 1. Martin GJ, Rand JS. Pharmacology of a 40 IU/ml porcine lente insulin preparation in diabetic cats: findings during the first week and after 5 or 9 weeks of therapy. J Feline Med Surg. 2001;3(1):23–30. 2. Vetsulin® (porcine insulin zinc suspension) [Freedom of Information Summary]. Millsboro, DE: Intervet Inc.; 2008. 3. Data on file, Merck Animal Health. 4. Graham PA, Nash AS, McKellar QA. Pharmacokinetics of porcine insulin zinc suspension in diabetic dogs. J Small Anim Pract. 1997;38(10):434–438. 5. Martin GJ, Rand JS. Pharmacokinetic and Pharmacodynamic Study of Caninsulin in Cats with Diabetes Mellitus. 2000: Internal Study Report. 6. Feldman EC, Nelson RW. Canine and Feline Endocrinology and Reproduction. 3rd ed. St. Louis, MO: Saunders; 2004:539–579. 7. Tennant B, ed. BSAVA Small Animal Formulary. 4th ed. Gloucestershire, UK: British Small Animal Veterinary Association; 2002. 8. Feldman EC, Nelson RW. Canine and Feline Endocrinology and Reproduction. 3rd ed. St. Louis, MO: Saunders; 2004:486–538. 9. Reusch C. Feline diabetes mellitus. In: Ettinger SJ, Feldman EC, eds. Textbook of Veterinary Internal Medicine. 7th ed. St. Louis, MO: Saunders; 2010:1796–1816. 10. Nelson RW. Canine diabetes mellitus. In: Ettinger SJ, Feldman EC, eds. Textbook of Veterinary Internal Medicine. 7th ed. St. Louis, MO: Saunders; 2010:1782–1796. 11. Burgaud S, Riant S, Piau N. Comparative laboratory evaluation of dose delivery using a veterinary insulin pen. In: Proceedings of the WSAVA/FECAVA/BSAVA congress; 12–15 April 2012; Birmingham, UK. Abstract 121. 12. Burgaud S, Guillot R, Harnois-Milon G. Clinical evaluation of a veterinary insulin pen in diabetic dogs. In: Proceedings of the WSAVA/ FECAVA/BSAVA congress; 12–15 April 2012; Birmingham, UK. Abstract 122. 13. Burgaud S, Guillot R, Harnois-Milon G. Clinical evaluation of a veterinary insulin pen in diabetic cats. In: Proceedings of the WSAVA/FECAVA/BSAVA congress; 12–15 April 2012; Birmingham, UK. Abstract 45. 14. Davison, et al. J Vet Intern Med 2008; 22:1317-1325. 15. Banfield State of Pet Health 2016 Report. p 12-13