Benefits of using an internal teat sealant in dry cow management
By Brian Miller, D.V.M., cattle technical services veterinarian, Merck Animal Health
Dairy cows are at greatest risk of developing a new intramammary infection (IMI) during the dry period – especially two to three weeks after dry-off and two to three weeks prior to calving.
New IMIs during the dry period result in "carryover infections" into the next lactation, which lead to an increased risk of clinical mastitis cases, inferior milk quality, production losses and early herd removal.
Preventing IMIs can significantly impact a dairy producer's bottom line. Clinical mastitis cases during the first 30 days of milk have been estimated to cost more than $400 per cow.
The combination of environmental and physiological changes that cows experience during the dry period that make them most susceptible to IMIs. Risk factors include hyperkeratosis, cracked teats and variability in keratin plug formation.
One study showed that nearly 25 percent of teat ends remain open up to six weeks after dry-off, making cows more susceptible to infection.1 The National Mastitis Council's (NMC) Recommended Mastitis Control Program suggests using a teat sealant when dry cows are exposed to high levels of environmental pathogens.2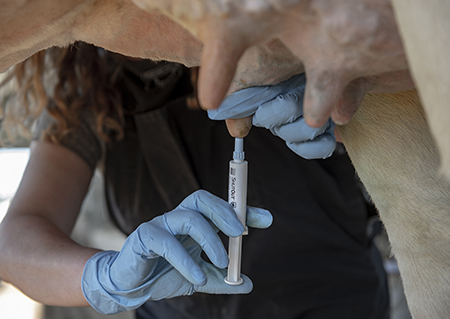 ShutOut® can be infused into teats at dry-off to simulate the keratin plug. A malleable paste, ShutOut functions as an inert internal physical barrier to help prevent bacterial invasion.
This sterile, antibiotic-free barrier is designed for easy use in today's dairy operations. A comparative study demonstrated SHUTOUT as a very syringeable product formulated to stay in place at the time of administration.3 With a short plunger stroke, dual-tip option and an easy-to-break cap, producers can efficiently treat their cows at dry-off.
Research reinforces the benefits of internal teat sealants – used with or without dry cow treatment at dry-off. 4 The use of an internal teat sealant can reduce the risk of developing an IMI by more than 70%.5
Each syringe of ShutOut consists of 4.0 grams of a sterile, antibiotic-free, intramammary paste containing 2.6 grams of bismuth subnitrate. ShutOut is available in 144-syringe buckets and 24-syringe boxes. Both include biodegradable, disinfectant wipes for udder prep. To learn more, visit ShutOutForDairy.com.
Dingwell R, Leslie K, Sargeant J, Schukken Y, Timms L. Impact of milk production and important management factors on the process of dry-off in lactating dairy cows. Kansas Agricultural Experiment Station Research Reports, 2001.
NMC Recommended Mastitis Control Program, August 2000.
Data on file, Merck Animal Health, November 2019.
Timms, Leo L. "Field trial evaluations of a novel persistent barrier teat dip for preventing mastitis during the dry period and as a potential substitute for dry cow antibiotic therapy." Animal Industry Report. AS 650, ASL R1914. DOI: https://doi.org/10.31274/ans_air-180814-42.2004.
Rabiee AR & Lean IJ. The effect of internal teat sealant products on intramammary infection, clinical mastitis, and somatic cell counts in lactating dairy cows. J. Dairy Sci. 2013;96(11):6915-6931.
---
Read other articles here: