Now available: Intranasal BRD vaccine against both viral and bacterial pneumonia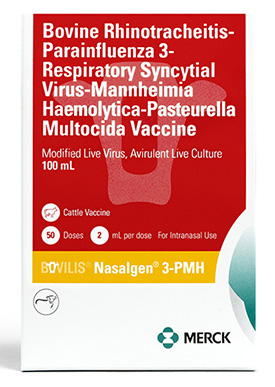 Veterinarians and dairy producers can now purchase Bovilis® Nasalgen® 3-PMH, the first and only intranasal BRD vaccine that provides protection against both viral and bacterial pneumonia. This vaccine protects against five major causes of respiratory disease in one dose – IBR, BRSV, PI3 and Pasteurella multocida and Mannheimia haemolytica.
Approved for use in dairy and beef cattle, this intranasal vaccine provides early, broad-spectrum respiratory protection in a needle-free, animal-friendly administration. Results of efficacy, duration of immunity and safety studies demonstrate the vaccine is safe and effective for calves 1 week of age or older, pregnant cows and calves nursing pregnant cows.
The vaccine is administered in a single 2-mL dose. It contains a unique BluShadowTM diluent that clearly indicates which animals have been vaccinated. It is available in single dose/2-mL, 10-dose/20-mL and 50-dose/100-mL packages.
To learn more about the newest option in intranasal respiratory vaccines, visit Nasalgen.com, or contact your Merck Animal Health representative.
---
Read other articles here: