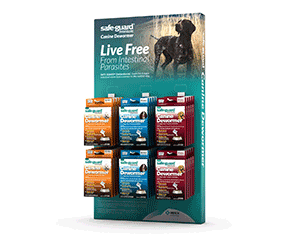 SAFE-GUARD® Canine Power Wing
Stock and sell all three sizes of SAFE-GUARD® Canine Dewormers without sacrificing shelf space. Easily affixes to most aisle shelving. Can be used with product boxes or proxy cards. This Power Wing has 6 pegs that each hold up to 6 boxes. It is 14″ wide x 25″ tall x 2″ deep. We recommend stocking 12 boxes of each SAFE-GUARD Canine sizes.
Contact us at RetailTeam@merck.com to order this great merchandising item as well as for merchandising program details and availability.