PM-ONEVAX®-C
Pasteurella multocida Vaccine
For vaccination of healthy broiler breeder and layer chickens and turkey breeders as an aid in prevention of fowl cholera due to Pasteurella multocida.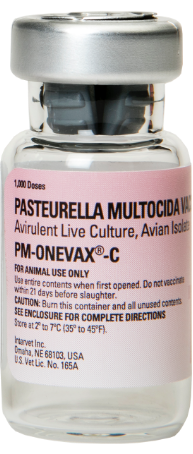 ADVANTAGES:
A temperature sensitive mutant of the CU strain that produces stronger takes than the M-9 strain, but less than the CU strain
Offers protection against naturally occurring field strains of P. multocida
Easy wing-web administration in broiler breeders, layers and turkey breeders
RESOURCES

To view our complete product lineup, click to view
our POULTRY PRODUCT CATALOG vol. 3.0.