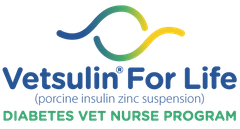 eBook Series
As a veterinary nurse or technician, you play an important role in helping pet parents deal with a diagnosis of diabetes in their dog or cat. That's why we've created the Vetsulin For Life – Diabetes Vet Nurse Program, an eBook series filled with valuable knowledge and practical tips.
Get the first eBook in the series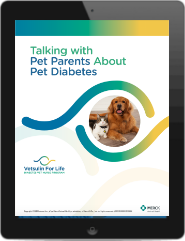 Talking with Pet Parents About Pet Diabetes
A diagnosis of diabetes in a dog or cat can leave pet parents alarmed or intimidated. Your first eBook will refresh your skills in communicating with pet parents about pet diabetes. You'll learn new ways to share how diabetic pets can lead normal, happy lives with proper management.
Learn about:
Communicating simply and clearly with pet parents
Explaining the importance of monitoring
Encouraging lifestyle changes in diabetic pets
Tools and ideas to successfully manage diabetes at home.
The eBook will be available for immediate download when you submit
your information. You'll also receive a copy via email.
Don't miss out
Get the entire Pet Diabetes
eBook Series from Vetsulin®
Future eBooks will cover valuable topics like:

New Patients:
Troubleshooting & FAQ

Understanding/Using
Diabetic Data

Differences Between
Dog & Cat Diabetes
Download the first in the series today and you'll be notified by
email as additional eBooks become available.