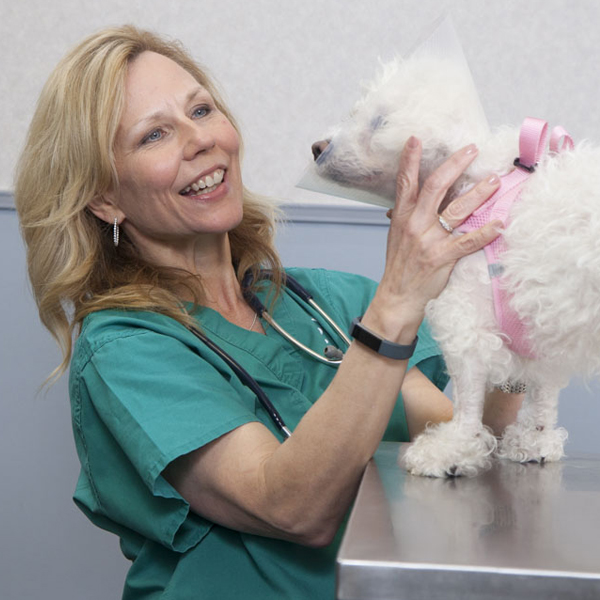 Dr. Debera A. Butler
DVM,
Sr. Professional Services Veterinarian
Mountain States Region
(AZ, CO, ID, MT, NM, NV, UT, WY)
Dr. Debera A. Butler has always had a passion for animals. Her grandfather was a veterinarian and at four years old, she found out "doggie doctors" existed and wanted to follow in his footsteps. She has had dogs her entire life, primarily Cocker Spaniels, which explains her love of treating ear and skin diseases.
Dr. Butler practiced small animal medicine in Arizona for 15 years and continues to practice part-time on weekends. She is currently a Sr. Professional Services Veterinarian for Merck Animal Health's Companion Animal business. She is a member of the American Veterinary Medical Association, Arizona Veterinary Association, and Humane Society Veterinary Medical Association.

---
---
"My favorite part of being a veterinarian for Merck Animal Health is visiting my alma mater, CSU. I get the honor of lecturing to students and collaborating with faculty, some of which taught me."
---
---
Dr. Butler lectures at veterinary associations meetings, veterinary schools, and a variety of animal-related meetings across the country, and also serves as an internal dermatology expert for the otics portfolio. You also might recognize Dr. Butler from the time she saved an elk in her backyard that received local and national news coverage.
Dr. Butler is passionate about and advocates for homeless or financially challenged people with pets. While attending vet school, she started noticing homeless people with dogs and heard many people criticizing this, but felt the dogs were probably loved as much or more than ones whose owners had homes. She would save the monthly coupons for free bags of dog food and pass them out to the homeless.
Dr. Butler was an initial advisor of Family Promise in Scottsdale, AZ, the first homeless shelter to welcome pets. It has been so successful that it is now being rolled out to their other locations nationwide.
In addition, Dr. Butler volunteered her time in the aftermath of Hurricane Harvey, which left thousands of people and pets homeless. Dr. Butler treated patients at a unique shelter in Houston set up to house both people and their pets; around 700 pets and their owners were temporarily relocated.
Dr. Butler is an Arizona native, has three dogs, desert tortoises, fish and daily visits from elk. In her free time, she enjoys spending time outdoors, being a "doggie match-maker" and exercising.
Education
Bachelor of Science, Zoology,

Northern Arizona University

Doctor of Veterinary Medicine,

Colorado State University
Areas of Interest
Dermatology
Diabetes
Otics
Shelter medicine
Wildlife (especially elk)