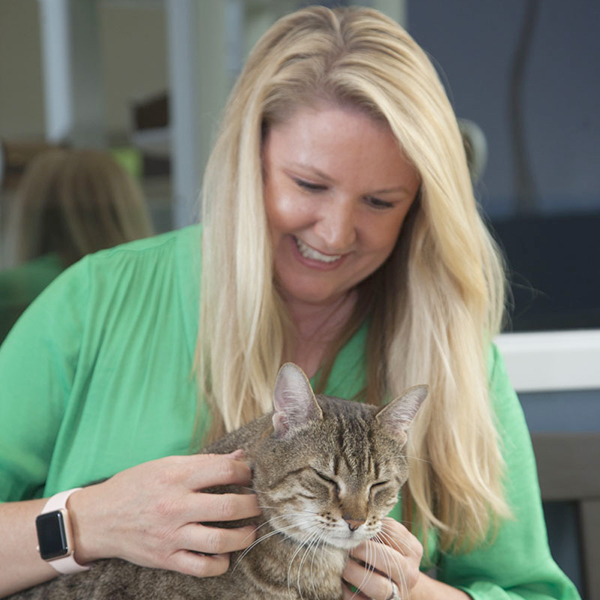 Dr. Debra Olbrich
DVM, MS,
Sr. Professional Services Veterinarian
Great Lakes Region (IA, IL)
Dr. Olbrich graduated from Illinois State University in 1999 with a B.S. in Biology and a minor in Secondary Education. She graduated from Northern Illinois University with a M.S. in Biology, focusing her thesis on parasitoid wasps. Following her studies at NIU, she conducted research at UW-Madison Dairy sciences lab on follicular cysts in dairy cows. In 2007, Dr. Olbrich graduated from the University of Wisconsin-Madison School of Veterinary Medicine where she received the Dueland Award for outstanding performance in orthopedics.
Dr. Olbrich worked as a small animal veterinarian in a private practice located in Wilmette, Illinois, prior to joining Abbott Animal Health as a veterinary medical liaison in 2011. In 2015, she decided to go back into private practice after getting certified in Veterinary Medical Acupuncture (dogs/cats/cows/horses).

---
---
"I can't imagine my life without animals. They provide unconditional love to us and I get such a great feeling inside knowing that I can help that animal live a long and comfortable life."
---
---
In September 2017, Dr. Olbrich took the opportunity to combine her passion for education and veterinary medicine joining Merck as a Senior Professional Services Veterinarian. Her special interests include but are not limited to diabetes, parasites, pain management, osteoarthritis and feline medicine.
Dr. Olbrich has lectured at both state and national veterinary association meetings (topics: Veterinary Wellbeing, Leptospirosis, Lyme disease, ticks, diabetes, osteoarthritis, and oncology), lectured/run wet labs in over 7 different veterinary schools and had a TV appearance on Designing Pet Spaces discussing the diagnosis and treatment of diabetes.
Education
Bachelor of Sciences – Biological Sciences,

Illinois State University, Normal, IL

Master of Science – Biological Sciences,

Northern Illinois University, DeKalb, IL

Doctor of Veterinary Medicine,

University of Wisconsin Veterinary School, Madison, WI

Certified Veterinary Medical Acupuncture,

CuraCore
Areas of Interest
Dentistry
Diabetes
Infectious Disease
Pain Management
Parasitology
Preventative Medicine
Veterinary Well-Being
Publications
Gumen A, Powell JA, Olbrich DL, Wiltbank MC. Development of Ovarian Follicular Cysts After Treatment of Cattle with a GnRH Receptor Antagonist (acyline) and Estradiol. Biology of Reproduction: 275-275, 2004
Olbrich, D.L., King, B.H. Host and Habitat Use by Parasitoids (Hymenoptera: Pteromalidae) of House Fly and Stable Fly (Diptera: Muscidae) Pupae. The Great Lakes Entomologist: 179-90, 2003
Olbrich, D.L. 2002. Got wasps? A natural survey of parasitoid wasps on a northern Illinois dairy farm.