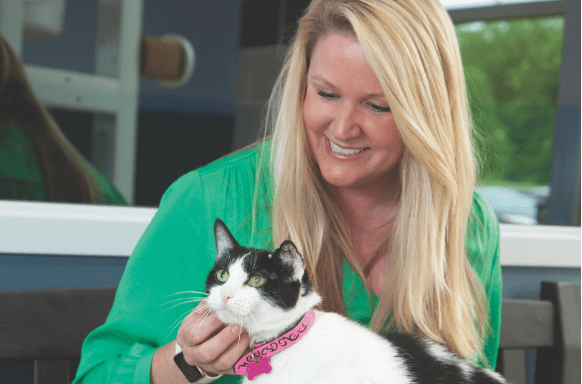 Dr. Debra Olbrich
DVM, MS, Sr. Professional Services Veterinarian
Great Lakes Region (IA, IL)
Dr. Debra Olbrich is multifaceted — she is as comfortable working on a dairy farm (where she grew up) as she is practicing in a large city. Having this comfort level and varied background allows her to connect with many different types of people and establish a positive rapport with her clients quickly. She looks at complex problems from all different angles and then finds a solution that will work best in each situation. Dr. Olbrich says that having been in practice after working in the industry has made her a better veterinarian; she is more closely connected to her customers' needs and can relate to many clinic types (rural, suburban, and urban). She has experience with both small and large animals, and still shows her family's dairy cows at state and national shows.

I can't imagine my life without animals. They provide unconditional love to us and I get such a great feeling inside knowing that I can help that animal live a long and comfortable life.

As a Sr. Professional Services Veterinarian with Merck Animal Health since 2017, Dr. Olbrich is able to teach complex topics to a variety of staff members (from veterinarians to kennel staff).
She also served as an associate veterinarian at a small animal hospital for six years. She was a Veterinary Liaison as a pharmacy assistant at the University of Wisconsin Veterinary School, a research assistant at the University of Wisconsin Dairy Science, and a laboratory instructor at Northern Illinois.
Dr. Olbrich is so grateful to work for a company that has such depth of scientific research to back up claims. She has personally used Merck Animal Health products in practice and has seen their benefits directly.
When not in the field, Dr. Olbrich loves spending time with her husband, daughter, and three cats. She also enjoys showing her family's dairy cows at state, national and international cattle shows. Dr. Olbrich says she is "a borderline crazy cat lady"—not that she does not love dogs. "Cats are just very unique little creatures and I love to work with them."
Education
Bachelor of Science – Biological Sciences, Illinois State University, Normal, IL

Master of Science – Biological Sciences, Northern Illinois University, DeKalb, IL

Doctor of Veterinary Medicine – University of Wisconsin Veterinary School, Madison, WI

Certified Veterinary Medical Acupuncture – Colorado State University
Areas of Interest
Dentistry

Diabetes

Infectious Disease

Pain Management

Parasitology

Preventative Medicine

Veterinary Well-Being
Publications
Gumen A, Powell JA, Olbrich DL, Wiltbank MC. Development of Ovarian Follicular Cysts After Treatment of Cattle with a GnRH Receptor Antagonist (acyline) and Estradiol. Biology of Reproduction: 275-275, 2004
Olbrich, D.L., King, B.H. Host and Habitat Use by Parasitoids (Hymenoptera: Pteromalidae) of House Fly and Stable Fly (Diptera: Muscidae) Pupae. The Great Lakes Entomologist: 179-90, 2003
Olbrich, D.L. 2002. Got wasps? A natural survey of parasitoid wasps on a northern Illinois dairy farm.