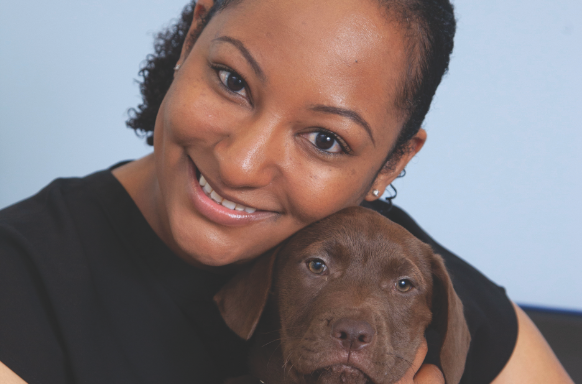 Dr. Dominique Sims
DVM, Sr. Professional Services Veterinarian
Pacific Northwest Region (AK, OR, WA)
Dr. Dominique Sims earned her Bachelor of Science degree in Biology at the University of West Florida, and her Doctor of Veterinary Medicine degree from Tuskegee University. Her educational background in animal health also includes research, studying the Florida apple snail at the University of West Florida, and macrophages in SIV-infected macaques at the Tulane National Primate Research Center.

I have wanted to be a veterinarian since I was three years old. My earliest memory is attending my family dog's vaccine appointment and being so amazed that this kind of profession existed.

Having completed veterinary school, Dr. Sims began practicing in a heartworm-endemic area in Louisiana. There she acquired a unique skill set and perspective that led her to apply her animal health expertise in a completely different part of the country—the Pacific Northwest. This is where she currently nurtures both animals and industry colleagues as a Sr. Professional Services Veterinarian for Merck Animal Health.
Prior to that, she had experience in general practice, emergency medicine, and corporate hospitals.
When not in the field, Dr. Sims loves traveling the world and exploring new cultures. At home, she enjoys photography, painting, and hiking with her Cocker Spaniel to take full advantage of the Pacific Northwest landscape.
Education
Bachelor of Science, Biology, University of West Florida

Doctor of Veterinary Medicine, Tuskegee University
Areas of Interest
Heartworm Disease

Immunology and Vaccinology

Parasitology

Rehabilitation and Aging Pets