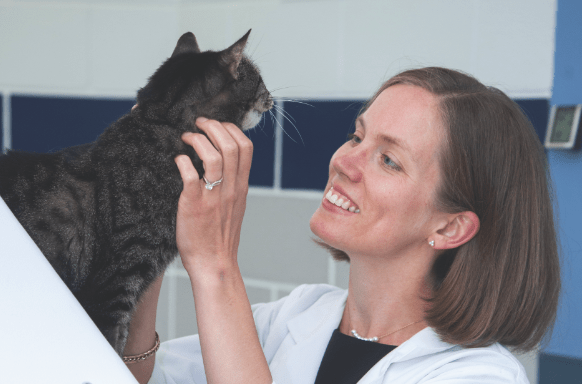 Dr. Melissa Bourgeois
DVM, PhD, DACVM (Virology, Immunology),
Director, Veterinary Insights and Medical Affairs
Dr. Melissa Bourgeois graduated from the University of Florida, College of Veterinary Medicine in 2007 with a DVM, and in 2010 with a PhD in veterinary medicine, focusing on gene expression in the equine host following West Nile virus infection. From 2010–2012, she served as an associate service fellow at the Centers for Disease Control and Prevention, conducting research into methods to combat highly pathogenic avian influenza. She became a diplomate of the American College of Veterinary Microbiologists (ACVM) in virology (2011) and immunology (2013).

Two of the things I like the most about working at Merck Animal Health are the scientific excellence of our products and the way that Merck Animal Health gives back to the community.

As a Professional Service Veterinarian at Merck Animal Health, Dr. Bourgeois leverages her vast veterinary knowledge, corporate expertise, communication and leadership skills, and a genuine passion for animals to build a better overall animal health community.
In her current role as Associate Director, Dr. Bourgeois oversees the direction of her fellow Professional Services Veterinarian team members, provides project management for data collection and analysis, offers support for corporate clients and universities, develops and presents CE lectures at various conferences, writes journal and research publications, and many other vital responsibilities. She first joined the Merck Animal Health team in 2012 as a technical services manager covering the Deep South region.
In addition to her research and industry work, Dr. Bourgeois has worked at local practices as an associate veterinarian and relief veterinarian.
Dr. Bourgeois calls the Atlanta area home, where you'll likely find her spending time with her family, two cats, and a horse. Riding dressage, backpacking, and mountain hiking help keep her centered, providing further proof that there's no hill Dr. Bourgeois can't climb, whether it's in the office, in the field, or at one with nature.
Education
Bachelor of Science, Zoology, University of Florida

Doctor of Veterinary Medicine, University of Florida, College of Veterinary Medicine

PhD, Infectious Disease, University of Florida
Areas of Interest
Immunology (DACVM)

Microbiology

Virology (DACVM)

Zoology
Publications
M. Patel, K. Carritt, J. Lane, H. Jayappa, M. Stahl, M. Bourgeois. Comparative efficacy of feline leukemia virus inactivated whole virus vaccine and canarypox virus-vectored vaccine during virulent FeLV challenge and immunosuppression. Clinical and Vaccine Immunology. 2015, 22(7).
Prevention of infectious disease module in the infectious disease handbook (https://www.dogflu.com/professionals/education-from-the-experts)
Bourgeois, MA. Canine Leptospirosis. Animal Health Solution. 2014;12-14.
Suxiang Tong, Xueyong Zhu, Yan Li, Mang Shi, Melissa Bourgeois, Jing Zhang, Sergio Recuenco, Jorge Gomez, Hua Yang, Li-Mei Chen, Ying Tao, Xianfeng Chen, Cyrille Dreyfus, Wenli Yu, Ryan McBride, Paul J. Carney, Amy T. Gilbert, Jessie Chang, Zhu Guo, Charles T. Davis, Nancy Cox, James C. Paulson, James Stevens, Charles E. Rupprecht, Edward C. Holmes, Ian A. Wilson, Ruben O. Donis. 2013. New World bats harbor diverse influenza A viruses. PLoS Pathogens. 2013;9(10):e1003657.
M. Jaber Hossain, Melissa Bourgeois, Fu-Shi Quan, Aleksandr S. Lipatov, Jae-Min Song, Li-Mei Chen, Richard W. Compans, Ian York, Sang-Moo Kang, Ruben O. Donis. Virus-like particle vaccine containing hemagglutinin confers protection against 2009 H1N1 pandemic influenza. Clinical and Vaccine Immunology. 2011 Oct 26.
Bourgeois MA, Denslow ND, Seino KS, Barber DS, Long MT, 2011. Gene Expression Analysis in the Thalamus and Cerebrum of Horses Experimentally Infected with West Nile Virus. PLoS ONE 6(10): e24371.
Bourgeois, MA. African Horse Sickness. In Wilson, David A. Clinical Veterinary Advisor: The Horse. Elsevier, Inc, St. Louis MO. 2012.
Bourgeois, MA. Borna Disease. In Wilson, David A. Clinical Veterinary Advisor: The Horse. Elsevier, Inc, St. Louis MO. 2012.
Bourgeois, MA. Infectious Diarrhea. In Wilson, David A. Clinical Veterinary Advisor: The Horse. Elsevier, Inc, St. Louis MO. 2012.
Bourgeois MA, Long MT, Seino KK. West Nile Virus Encephalomyelitis. In Mair, T. and Hutchinson, K. Infectious Diseases of the Horse. Equine Veterinary Journal Ltd. (peer reviewed) 2009.
Seino KK, Long MT, Gibbs EP, Bowen RA, Beachboard SE, Humphrey PP, Dixon MA, Bourgeois MA. Comparative efficacies of three commercially available vaccines against West Nile Virus (WNV) in a short-duration challenge trial involving an equine WNV encephalitis model. Clinical and Vaccine Immunology. 2007 Nov;14 (11):1465-71