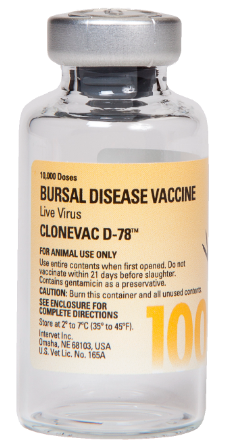 For the vaccination of chickens at 1 day of age or older by coarse spray application for the prevention of infectious bursal disease (IBD). It may also serve as a live virus primer of replacement pullets for subsequent vaccination with inactivated IBD vaccine.
Downloads
Indications
Clonevac D-78, a live virus vaccine, is indicated for initial vaccination of healthy chickens 2 weeks of age or older via drinking water or 1 day of age or older via coarse spray for the prevention of IBD – also known as Gumboro disease. The vaccine may also be used for priming of breeder replacement pullets. If chickens are vaccinated earlier than 2 weeks of age, revaccination at 4 weeks may be indicated for optimum protection.
Advantages
D-78 strain of IBD virus is derived from a natural field strain; it has not been attenuated by tissue culture used as directed or egg passage1
Capable of overcoming moderate levels of maternal antibody to induce strong, early protection1
Produces minimal damage to the bursa1
Safe to use in chickens at 1 day of age1
Supplied
10 x 10,000
For additional information, please see the product label.
References:
Data on file, Merck Animal Health.