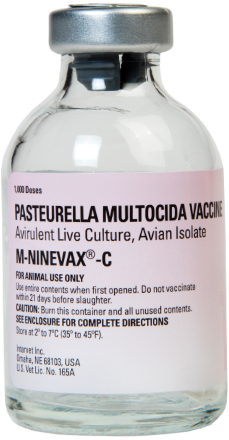 For vaccination of healthy breeder and layer chickens and turkey breeders as an aid in the prevention of fowl cholera due to Pasteurella multocida.
Advantages
Strong protection against P. multocida serotype 1 (chickens) and serotype 3 (turkeys)
Mild reactions for minimal stress
SAFE. Avirulent live culture will not revert to virulence; will not cause mortality
Specially formulated diluent provides excellent reconstitution stability
Supplied
10 x 1,000 doses
For additional information, please see the product label.