SAFE-GUARD® 20% TYPE A MEDICATED ARTICLE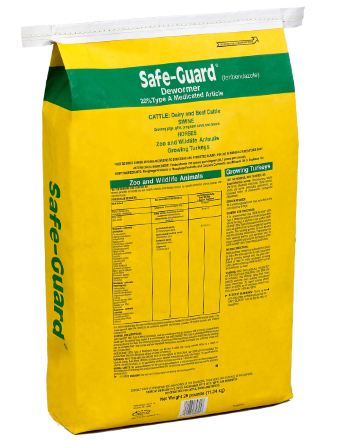 For the removal and control of gastrointestinal worms: round worms, adults and larvae (Ascaridia dissimilis), cecal worms, adults and larvae (Heterakis gallinarum), an important vector of Histomonas meleagridis (Blackhead) growing turkeys.
(Fenbendazole)
Advantages
Proven safety
The only in-feed dewormer approved for use in turkeys
Excellent efficacy against both larval and adult roundworms1
No pre-slaughter withdrawal required. May be used until day of slaughter2
Supplied
Net Weight: 25 lb. (11.34 kg)
For additional information, please see the product label.
References:
Data on file, Merck Animal Health.
Safe-Guard SAFE-GUARD® Type "A" Medicated article (Premix) [prescribing information]; 1991.