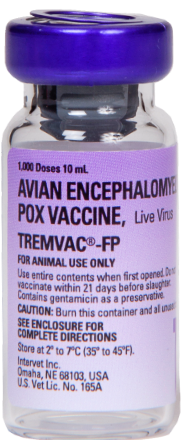 For the immunization of chickens at 8 to 17 weeks of age against avian encephalomyelitis (AE) and fowl pox.
Downloads
Indications
This combination vaccine is indicated for the immunization of commercial layers, commercial layer breeders and broiler breeders against AE and fowl pox. This combination vaccine is indicated for immunization of chickens 8-17 weeks of age against AE and Fowl Pox via wing-web stick method.
Advantages
Protection against infection with AE and fowl pox viruses1
Both the AE virus and fowl pox virus are back passed in SPF chickens to ensure maximum potency1
The Calnek strain of AE provides dependable immune response with consistent antibody titer1
Demonstrable efficacy with reliable development of "takes" at seven days post-vaccination1
Combined product reduces vaccination costs1
Supplied
10 x 1000 doses
For additional information, please see the product label.
References:
Data on file, Merck Animal Health.