ART VAX®
Bordetella avium Vaccine
For vaccination of healthy turkeys as an aid in the prevention of rhinotracheitis (turkey coryza) caused by Bordetella avium.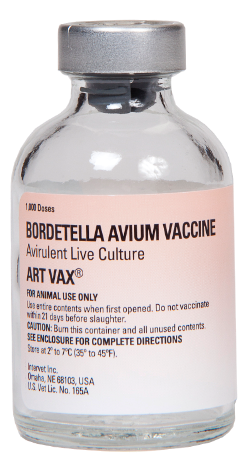 ADVANTAGES:
Approved for spray administration at 1 day of age followed by drinking water at 2 weeks of age
Proven efficacy in preventing coryza in turkeys
Time proven, this vaccine strain has been used effectively in the field for over 20 years
Mild reaction
Freeze dried product of proven quality and stability
RESOURCES

To view our complete product lineup, click to view
our POULTRY PRODUCT CATALOG vol. 3.0.