CAV-VAC®
Chicken Anemia Virus Vaccine
For the vaccination of breeder replacement chickens to provide protection against chicken infectious anemia in their progeny.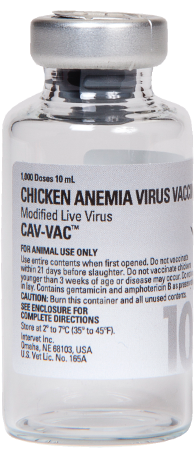 ADVANTAGES:
First USDA licensed chicken anemia virus (CAV) vaccine
Safe to use in young, antibody negative chickens
Induces high levels of protective antibodies for long-term protection of parent flocks and their progeny against chicken infectious anemia
Provides uniform flock protection
Does not require addition of diluent
RESOURCES

To view our complete product lineup, click to view
our POULTRY PRODUCT CATALOG vol. 3.0.