ENTEROVAX®
Tenosynovitis (Viral Arthritis) Vaccine
For vaccination of healthy chickens as an aid in control and prevention of reovirus-induced tenosynovitis (viral arthritis) in broilers, roasters, and breeders.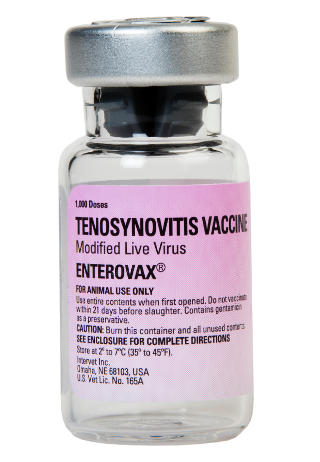 ADVANTAGES:
Provides strong immunity against viral arthritis (tenosynovitis) caused by reovirus
SAFE. The mild-reacting strain will not cause lameness or mortality when used as directed
Approved for coarse spray administration at day of age or by drinking water to birds 1 week of age or older
Ideal for use in breeder replacement and broiler flocks carried to heavier weights
RESOURCES

To view our complete product lineup, click to view
our POULTRY PRODUCT CATALOG vol. 3.0.