M-NINEVAX®-C
Pasteurella multocida Vaccine
For vaccination of healthy breeder and layer chickens and turkey breeders as an aid in the prevention of fowl cholera due to Pasteurella multocida.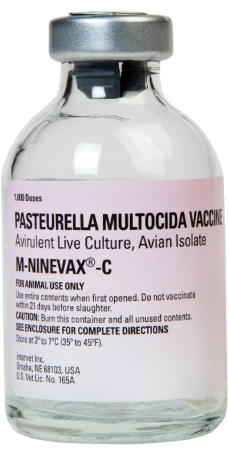 ADVANTAGES:
Strong protection against P. multocida serotype 1 (chickens) and serotype 3 (turkeys)
Mild reactions for minimal stress
SAFE. Avirulent live culture will not revert to virulence; will not cause mortality
Specially formulated diluent provides excellent reconstitution stability

To view our complete product lineup, click to view
our POULTRY PRODUCT CATALOG vol. 3.0.