MILDVAC®-ARK
Bronchitis Vaccine
For the vaccination of healthy chickens at 1 day of age or older as an aid in the prevention of Arkansas type infectious bronchitis (IB).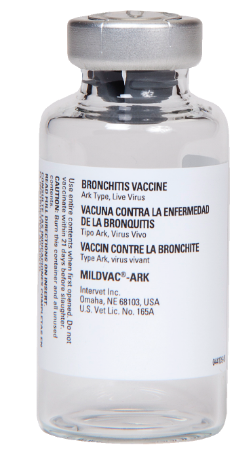 ADVANTAGES:
Mild reaction; safe for use in chicks at 1 day of age
Excellent protection against Arkansas type IB
Monovalent vaccine can be tailored to numerous vaccination programs
3168 strain of Arkansas type IB selected for its low reactivity and high immunogenicity
RESOURCES

To view our complete product lineup, click to view
our POULTRY PRODUCT CATALOG vol. 3.0.